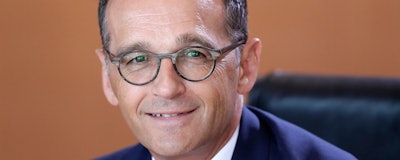 BERLIN (AP) — Germany's foreign minister called for Europe to strengthen its financial independence from the United States and set up independent payment channels as he laid out proposals for a future "balanced partnership" with the U.S.
Heiko Maas wrote in a piece for the daily Handelsblatt Wednesday that he envisions taking a "balanced share of responsibility" and being "a counterbalance when the U.S. crosses red lines."
Maas said the U.S. and Europe have been drifting apart since well before Donald Trump's presidency — but he also criticized recent decisions such as Trump's withdrawal from the Iran nuclear deal. Germany, France and Britain, the European signatories to the 2015 agreement between Iran and world powers, have vowed to keep it alive.
"In this situation, it is of strategic significance that we say clearly to Washington: we want to work together, but we will not allow you to act over our heads to our detriment," Maas wrote.
"That is why it was right to legally protect European companies from sanctions," he added. "That is why it is indispensable to strengthen European autonomy by setting up payment channels that are independent of the U.S., creating a European monetary fund and setting up an independent Swift system."
He didn't elaborate. SWIFT is the system overseeing international bank transfers. Separately, there has been talk for some time of upgrading a bailout fund cobbled together during Europe's debt crisis into a full-fledged European monetary fund to assist troubled countries.
"The devil is in a thousand details," Maas said. "But every day that the (Iran) agreement continues to exist is better than the highly explosive crisis that otherwise looms in the Middle East."
He also said that Europe must "expose fake news as such," renewing Germany's argument that, if trade isn't reduced to goods, Europe rather than the U.S. has a deficit.