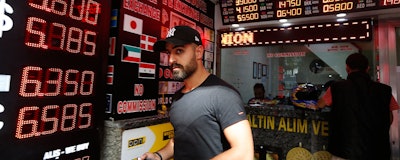 ISTANBUL (AP) — Beset by a shaky currency and tension with the United States, Turkey is reaching out to Europe to shore up relations with major trading partners despite years of testy rhetoric and a stalled bid for EU membership.
The engagement by Turkish President Recep Tayyip Erdogan, who has harshly criticized Germany and other European nations in the past, is part of a diplomatic campaign to capitalize on international unease over U.S. President Donald Trump and American tariff disputes around the world. Also this week, Qatar pledged $15 billion in investments in Turkey and Russia's foreign minister talked about using national currencies instead of the dollar in trade with Turkey.
Even so, many commentators believe the path to Turkey's long-term recovery lies in bold economic steps, such as an interest rate increase to curb inflation after years of debt-fueled growth, as well as a resolution to a bitter rift with the United States over an American pastor on trial in a Turkish court. They wonder to what extent Erdogan, who has intensified his control over Turkey as leader for nearly 16 years, can modify his positions after saying the currency crisis and standoff with Washington is an "economic war."
The dialogue with NATO allies in Europe as well as Russia, seen by many in Washington as a threat to U.S. interests, reflect Turkey's unusual status as a strategic country in a volatile region where world powers have long been deeply involved. Turkey, which has secular traditions and a mostly Muslim population, has generally taken a pragmatic course since the Cold War, staying anchored in Western institutions but also engaging Iran and other regional heavyweights.
In a fresh emphasis on Europe, Erdogan spoke by phone about stability and cooperation with German Chancellor Angela Merkel on Wednesday, and with French President Emmanuel Macron on Thursday. In addition, Turkey freed two Greek soldiers who had been held in a Turkish prison for months. And a Turkish court freed Taner Kilic, an Amnesty International representative who was jailed for 14 months, though the terror-related charges against him were not dropped.
"There is a growing reaction in Europe against the Trump administration's restrictive and punitive economic policies," Ibrahim Kalin, a spokesman for the Turkish president, said in remarks that did not address the difficulties in relations between Europe and Turkey. He said Turkey, France and Germany "are on the same page" in opposing the U.S. move to impose tariffs.
Just last year, during a low point, Erdogan referred to what he called the "Nazi practices" of contemporary Germany.
Washington imposed sanctions on two Turkish government ministers and doubled tariffs on Turkish steel and aluminum imports over the detention of American pastor Andrew Brunson on espionage and terror-related charges. Turkey retaliated with tariffs on some U.S. imports and said it would boycott U.S. electronic goods.
The EU has likewise been subjected to new tariffs on steel and aluminum by the Trump administration, with the bloc responding in kind, though the sides agree last month to try to roll back the punitive duties.
The EU, Turkey's biggest trading partner, provides billions of euros to the Turkish government to help several million Syrian refugees on its soil and prevent them from reaching Europe. But the relationship is also fraught. Turkey has accused European countries of harboring suspected terrorists, while Europe has longstanding concerns about democracy and the rule of law in Turkey.
Turkey's detention of half a dozen German citizens for what Berlin considers political reasons after a 2016 coup attempt has been a major irritant. Another German citizen was arrested Wednesday for suspected links to Kurdish rebels, German news agency dpa reported.
It would be in Turkey's own interest to come to an agreement with the United States and others on the release of foreign prisoners, said Germany's foreign minister, Heiko Maas. Merkel has also said that, while Turkey's economic stability is vital, it is important that the country's central bank be able to operate independently. Some investors are concerned that Erdogan is increasing influence over the central bank to keep it from raising interest rates, a worry that contributed to the recent plunges in the value of the Turkish lira.
Holger Schmieding, an economist for Berenberg bank, said there are limits to what the EU can do to help Turkey.
"A few extra billion euros for Turkey to cope with the Syrian refugee crisis and some small amounts from other EU funds are feasible," he wrote in an analysis. "But such sums would not make a decisive difference."
Schmieding said a bailout by the International Monetary Fund, seen as unlikely at the moment, could become a "realistic option" if Erdogan improves political ties with the EU and the United States and makes a "U-turn" on economic policies.
The $15 billion pledge from Qatar comes as the small nation on the Arabian Peninsula faces its own geopolitical crisis. For over a year, Bahrain, Egypt, Saudi Arabia and the United Arab Emirates have boycotted Doha in a political dispute. Despite facing initial strains in its own crisis, energy-rich Qatar does have the money to spend to help Ankara.
Despite Turkey overtures to Europe this week, experts are braced for more twists and turns.
Angelos Stangos a commentator in Greece's Kathimerini newspaper, says Greek officials should be cautious because Trump and Erdogan are powerful and unpredictable. More instability in Turkey could hurt Greece's tourism industry and lead to increased refugee flows.
"One cannot predict where and how the tension in their relationship will end," he wrote.
___
Geir Moulson in Berlin and Jon Gambrell in Dubai contributed to this report.