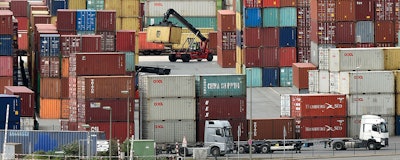 BEIJING (AP) — Europe and China will form a group aimed at updating global trade rules to address technology policy, government subsidies and other emerging complaints in a bid to preserve support for international commerce, the vice president of the European Union's governing body said Monday.
European Commission Vice President Jyrki Katainen said unilateral action by U.S. President Donald Trump in disputes over steel, China's technology policy and other issues highlighted the need to modernize the World Trade Organization to reflect developments in the world economy.
U.S. officials have said the WTO, the Geneva-based arbiter of world trade rules, is bureaucratic, rigid and slow to adapt to changes in global business and needs an overhaul.
Katainen said he did not expect negotiations on updating trade rules to be easy but that they were necessary to save the environment for multilateral trade.
Late last month, Trump infuriated U.S. allies — from the EU to Canada and Mexico — by imposing tariffs of 25 percent on imported steel and 10 percent on aluminum. The president justified the move by saying imported metals threatened America's national security — a justification that countries have used rarely because it can be easily abused.
Trump has also started a trade fight with China over Beijing's sharp-elbowed efforts to overtake U.S. technological dominance. China's tactics range from forcing American companies to hand over technology in exchange for access to the Chinese market to outright cybertheft.
The White House has announced plans to slap 25 percent tariffs on 1,100 Chinese goods, worth $50 billion in imports. The Chinese have said they will respond in kind. Trump said he would then retaliate with more tariffs. All told, the $450 billion in potential tariffs would cover nearly 90 percent of goods China sends to the United States.