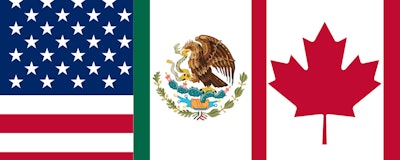 MEXICO CITY (AP) — The top trade representatives of the United States, Mexico and Canada ended the latest round of talks on renegotiating the North American Free Trade without a deal Friday, less than a week before an unofficial deadline to get any agreement through the U.S. Congress.
Mexico's Economy Secretary said technical working groups from the three countries would meet again starting Monday. But Thursday probably marks the last day under procedural deadlines to get a vote under the current U.S. legislature.
Mexico disagrees with U.S. attempts to get higher regional content rules in the auto industry and orient production to higher-wage U.S. and Canadian factories.
A Mexican official who was not authorized to be quoted by name said the trade representatives would remain "on call" in case any last-minute deal is reached. But the official acknowledged it would be difficult, and suggested the U.S. would have to show some flexibility.
The U.S. also wants to change the dispute-resolution system, and include a sunset clause that would allow countries to exit after five years.
U.S. Trade Representative Robert Lighthizer said in a statement that the talks "have covered a large number of very complex issues" including intellectual property, dairy and agriculture, energy, labor standards.
"The United States is ready to continue working with Mexico and Canada to achieve needed breakthroughs on these objectives," Lighthizer wrote. "Our teams will continue to be fully engaged."
President Donald Trump launched fresh criticism of NAFTA on Friday.
"NAFTA has been a terrible deal, we're renegotiating it now, let's see what happens," Trump said. "NAFTA has been a horrible, horrible disaster for this country, and we'll see if we can make it reasonable."
Time is also running out for Mexico, which will hold presidential elections on July 1. Andres Manuel Lopez Obrador, the leftist candidate who leads in the polls, has said the re-negotiation shouldn't be rushed through and should be left to the winner of the July 1 vote.