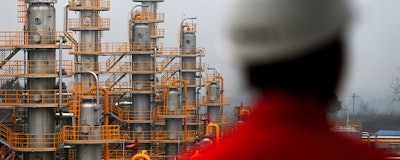 BEIJING (AP) — Businesspeople are looking to China's ceremonial legislature for assurance President Xi Jinping is speeding up reforms aimed at making the cooling economy more productive as he prepares the country for a return to one-man rule.
Next week's annual session of the National People's Congress comes after the Communist Party's decision to end presidential term limits prompted hopes Xi, already China's most dominant figure since the 1980s, might feel more confident about embracing painful changes needed to curb surging debt, overhaul state industry and open the economy wider to private competitors.
"China's reform process has been very sluggish. We need to watch whether reforms can accelerate," said Citigroup economist Li-Gang Liu. "If we continue to be disappointed, then sentiment on China will turn for the worse."
A party statement Wednesday affirmed promises to give market forces the "decisive role" in allocating resources. But moves to centralize power in Xi's hands and give the party more control over business have fueled doubts about Beijing's commitment.
The meeting of the full NPC does little lawmaking work. Instead, communist leaders use the gathering of 3,000-plus delegates as a platform to publicize new initiatives and set the tone for the year's development plans.
The decision on term limits triggered complaints China is setting back market-oriented reform that requires impartial institutions. But some analysts suggested Xi might be more effective in the short term if officials who might resist change can no longer be sure when he will leave.
The 64-year-old leader has tempered pledges to promote market forces by also affirming plans to build up state companies that control energy, telecoms and most other industries.
The party's ambitious agenda includes nurturing more sustainable growth driven by domestic consumption instead of trade and investment and doubling incomes from 2010 levels by 2020.
Last year's economic growth ticked up to 6.9 percent, among the world's strongest. But that is forecast to fall as regulators try to get rising debt under control by tightening controls to cool twin booms in bank lending and real estate sales.
Xi has embraced changes including slashing more than 2 million jobs in an effort to streamline bloated coal and steel industries and has tightened financial regulation. But he faces criticism he has avoided fundamental challenges such as curbing the costly privileges of state companies, cutting bank lending that keeps some afloat and possibly allowing them to go bankrupt.
A key indicator being closely watched by businesspeople and economists next week is the expected promotion of Liu He, a top Xi adviser who is believed to support freer markets.
The Harvard-trained Liu is believed to be in line for a sweeping role overseeing reform, possibly from a post as a vice premier while also serving as head of a new financial industry regulator or governor of the central bank.
Giving one official such a broad portfolio would be a throwback to the 1990s and Zhu Rongji. As vice premier and then premier, Zhu overhauled state industry and the housing market, setting the stage for the following decade's explosive growth.
Total debt has surged to 270 percent of annual economic output — high for a developing country — as regulators propped up growth with repeated infusions of credit after the 2008 crisis. That prompted the Moody's and Standard & Poor's ratings agencies last year to cut China's government credit rating.
The party has declared reducing financial risk a priority, though Beijing has yet to make clear how far it will go in cutting lending if that threatens economic growth or elite companies.
A promotion for Liu might suggest Beijing will clamp down harder on financial risks "because they can afford to take some of the pain early on, given that Xi Jinping and his closest advisers expect to be in power for quite a long time," said Julian Evans-Pritchard of Capital Economics.
Still, he said, Xi appears to favor a prominent economic role for the ruling party.
The party announced in 2013 it would take a more direct role in managing state industry. More recently, foreign companies are under pressure to give it a formal voice in hiring, investment and strategy decisions of their joint ventures with Chinese partners — a move some worry is meant to turn them into tools of the party's development plans.
"We're not really seeing a willingness to step back and let market forces do their job," said Evans-Pritchard.
"That seems to reflect a calculation that basically they can't give up state control over key parts of the economy for political reasons," he said. "So they are putting the continued survival of the Communist Party ahead of what is needed to put the economy on a more sustainable footing and really achieve the growth rates that China could achieve with the right reforms."
Companies and investors also will be watching Beijing's economic growth and budget deficit targets, due to be announced Monday by Premier Li Keqiang, the ruling party's No. 2 leader, for signs of whether the leadership accepts the slowdown required to pay for reforms.
Chinese media suggest the growth target might be "around 6.5 percent," only a slight reduction from 2017. That would help avoid greater job losses but signal reluctance to accept a deeper downturn.
A possible cut, also suggested by Chinese media, in the deficit target to 2.9 percent of gross domestic product from last year's 3 percent would weigh on the economy. That would indicate Xi is serious about pursuing "quality growth," or slower activity that is more energy-efficient and generates higher-paying jobs.
Cleaning up corporate debt and making the state-owned banking system more market-oriented requires Beijing to wrestle with other politically thorny challenges, according to Citigroup's Liu.
Banks that subsidize state-owned enterprises with low-cost credit need to clear a backlog of unpaid loans before they can act like commercial lenders. Beijing is allowing some to repay debts with stock and says others might sell stakes to outsiders, but that is moving slowly.
"Without SOE reform, it is very difficult to talk about sustained financial sector deleveraging," said Liu. "You need to work more on the ownership side."