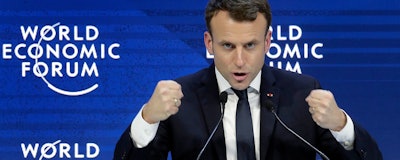 DAVOS, Switzerland (AP) — European leaders came to the defense of free trade and global cooperation on Wednesday, laying out a vision to counterbalance what many perceive as a rise in the more brash, nationalistic policies of U.S. President Donald Trump.
Trump's expected arrival to the World Economic Forum in Davos, Switzerland, on Thursday overshadowed the event and many government leaders rushed to stand in contrast with Trump's policies, particularly his move to revise free trade deals and drop out of a climate change pact.
"We believe that isolationism won't take us forward," German Chancellor Angela Merkel told the elite gathered in the snowy Alpine town. "We believe that we must cooperate, that protectionism is not the correct answer."
Merkel stressed there is too much "national egoism" at the moment and that the World Economic Forum's motto of "creating a shared future in a fractured world" was "exactly right" for 2018.
Concerns that the U.S. is turning its back on the globalization — which many credit with increasing wealth but also creating inequality — were accentuated this week, when Trump backed new tariffs on imported solar-energy components and large washing machines. His combative commerce secretary, Wilbur Ross, conceded Wednesday that China could respond by imposing its own tariffs on U.S. products.
"There's always potential for retribution or retaliation and that's up to the Chinese to decide," Ross told journalists as part of the largest-ever U.S. delegation to Davos. He warned that the U.S. itself could respond to any retaliation from Beijing.
The chorus of criticism of Trump's commercial policies is unlikely to sway Trump, especially when recited by governments that often maintain more trade barriers than the United States.
Experts note that countries like China have higher barriers to trade than the U.S. Even the European Union has been accused of pursuing protectionist trade policies to defend its own interests, particularly in agriculture and in industry.
"Trade wars are fought every single day," Ross added. "Unfortunately, every single day there are various parties trying to violate the rules, and trying to take unfair advantage of things ... the difference is that U.S. troops are now coming to the ramparts."
The "America First" view that underpins the Trump economic program has already seen the U.S. withdraw from the Trans-Pacific Partnership, a trade deal with 11 countries, and seek a renegotiation of the North American Free Trade Agreement with Canada and Mexico. Trump has also pulled the United States out of the Paris agreement on climate change, a move that reinforced fears that "America First" means the U.S. turns inward and opts for a more isolationist approach.
Before departing Washington, Trump said he was going to the forum to say how great the U.S. was. "Our economy is now booming and with all I am doing, will only get better...Our country is finally WINNING again!" the president tweeted.
French President Emmanuel Macron ironized on Trump's upcoming arrival. Referring to the huge amount of snow that has struck Davos over the past few days, Macron said it "could be hard to believe in global warming ... Fortunately you didn't invite somebody skeptical with global warming this year!"
While acknowledging that it is legitimate for each leader to say "My country first," Italian Prime Minister Paolo Gentiloni said trade was the means toward economic growth — and that protectionism runs counter to that.
Trump is due to address the Davos elites Friday and there's been concern among some participants about what his economic and trade policies could do to the global economy, which is growing at its strongest rate in years.
Trump's visit has sparked scattered, small protests in Switzerland and some participants among the 3,000 on hand say he's not welcome because of his controversial tweets, nationalistic tack, and trade policies.
U.S. Treasury Secretary Steven Mnuchin brushed off concerns about a possibly tough reception, saying: "Our objective is to be here to interact with important counterparts."
He insisted that the Trump administration believes in "free and fair trade" and was just making sure that "U.S. opportunities are equal to other people's opportunities in the U.S."
Mnuchin said Trump's over-riding priority is to boost U.S. growth, and that "economic growth in the U.S. is obviously good for the rest of the world," he said. "We are open for business."
Trump is due to hold meetings with political leaders, including British Prime Minister Theresa May and President Paul Kagame of Rwanda, as well as with business leaders, notably from some big European corporations. He is expected to trumpet his recent tax reform package, which saw corporate tax rates slashed in the U.S., to attract business into the U.S.
Those tax reforms, Mnuchin said, have already reaped big dividends, with many U.S. businesses, including Apple, saying they will repatriate money back into the U.S., pay more taxes and hand out bonuses to staff.
"The response from U.S. business has been even better than we expected," he said.
Mnuchin also caused jitters in financial markets by saying he that "a weaker dollar is good for us is good as it relates to trade and opportunities"
The comment breaks with two decades in which Treasury chiefs regularly backed a strong dollar. The U.S. currency fell sharply, hitting a three-year low against the euro.
___
Sylvie Corbet in Paris, David Rising in Berlin and Nicole Winfield in Rome contributed to this report.