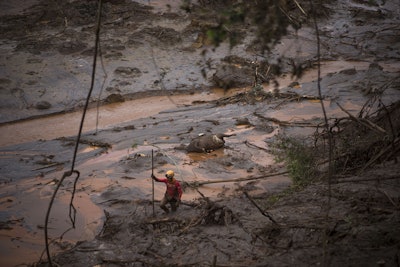 Wildlife experts braced for potential devastation along Brazil's central coast as toxic sludge from an iron ore mine washed into the Atlantic Ocean this week.
Early this month, the Fundão dam at a mine owned by Samarco — a joint venture of Australia-based BHP Billiton Ltd. and Brazil's Vale — burst and unleashed billions of gallons of mine waste.
The resulting deluge was characterized as Brazil's worst environmental disaster and as the worst dam breach in the history of mining. Twelve were killed and 11 more remain missing and presumed dead, while the wastewater made its way into the Rio Doce river.
After 16 days, the toxic mud completed a more than 300-mile course from the mine site to the Atlantic coast over the weekend.
Environmental authorities and company officials raced to protect the river's estuary from the spill prior to its arrival.
The river bottom was dredged and the river mouth widened in an effort to disperse the materials into the ocean more quickly. Oil barriers were added to protect coastline.
Local fishermen, meanwhile, were paid to collect and bury dead fish, while experts scrambled to remove young leatherback turtles.
The spill is colliding with one of the only nesting sites for the endangered turtle in Brazil. Other species threatened by the spill include loggerhead sea turtles, humpback whales, La Plata dolphins and an array of fish and sea birds.
Testing found high levels of arsenic, chromium, manganese and mercury in the wastewater. Analysts believe the toxic plume will directly impact about six miles of coastline near the mouth of the Rio Doce.
The river itself could take 30 years to be fully restored after the sludge obliterated plants and wildlife and altered the water's oxygen and pH levels.
The mining company plans to pay $260 million to the Brazilian government for initial cleanup costs and compensation to families.
Two other Samarco dams in Minas Gerais state, meanwhile, were also reportedly at risk for collapse.