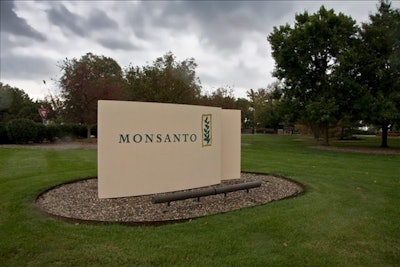 Monsanto Company this week announced a goal of reducing greenhouse gas emissions from its crop protection operations by 22 percent by 2020.


The St. Louis-based agribusiness giant unveiled the target this week in its annual sustainability report. The reduction, measured per pound of active ingredient, would be relative to the company's 2010 base year and represent a 45 percent drop compared to 2002.

Company officials said the crop protection business — including the Roundup line of herbicides — is the largest contributor to Monsanto's carbon footprint and would therefore be "the place where the company can achieve the greatest positive impact."

Monsanto also said partnerships with Walmart, the GROWMARK agricultural cooperative and the Clinton Global Initiative helped to reduce its impact on climate change. The company noted its seeds and fertilizers contributed to increased global crop yields while limiting the increase in farming's carbon footprint.

The company also vowed to increase irrigation efficiency throughout its global seed production operations by 25 percent by 2020.

"When it comes to growing food, members of the food value chain have a tremendous responsibility and opportunity to advance sustainable agriculture," Monsanto Vice President of Corporate Engagement Jesus Madrazo said in astatement.