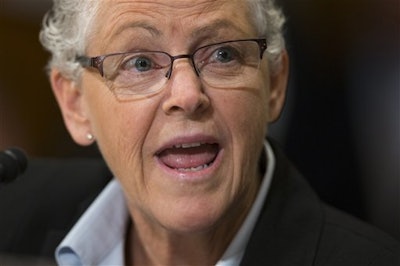 WASHINGTON (AP) — The head of the Environmental Protection Agency dismissed complaints Wednesday by Republican lawmakers that her agency downplayed the seriousness of a toxic mine spill that fouled rivers in three Western states.
EPA Administrator Gina McCarthy called the spill caused by her agency "tragic and unfortunate" and said the EPA has taken responsibility to ensure that 3 million gallons of rust-colored sludge released into Colorado's Animas River is cleaned up. The Aug. 5 spill occurred during excavation work at an inactive gold mine near Silverton, Colorado.
Republican senators charged at a hearing Wednesday that EPA is treating itself more gingerly than if a private company were responsible for the spill, which sent lead, arsenic and other heavy metals rushing toward downstream communities. The spill contaminated rivers in Colorado, New Mexico and Utah, as well as in the Navajo Nation and Southern Ute Reservation.
Sen. John Boozman, R-Ark., said the EPA employed a "double standard" in responding to the Colorado spill. While the agency at times adopts an aggressive, even "heavy-handed" approach to regulating companies, Boozman told McCarthy, "your initial reaction (to the Colorado spill) was to downplay the severity of it."
The EPA initially said the accident spilled 1 million gallons before revising it to three times that amount. State and tribal officials also have complained that EPA was slow to notify them of the accident.
Boozman said he was appalled at McCarthy's comment, during an Aug. 13 visit to New Mexico, that the Animas River was "restoring itself."
"That was done very, very poorly," he told McCarthy at a hearing conducted by the Senate Environment and Public Works Committee.
"There's no way EPA should have downplayed this. I certainly did not," McCarthy replied.
Russell Begaye, president of the Navajo Nation, said the spill has been devastating to the tribe. Testifying at a separate hearing Wednesday before the Senate Indian Affairs Committee, Begaye said three tribal members have committed suicide since the spill. The deaths were due at least in part to uncertainty and stress caused by the spill, he said.
"Our Navajo Nation has suffered greatly and we continue to suffer," Begaye said. He urged the EPA to resume offering fresh water to the Navajo for farming and personal use and to create an emergency fund to pay Navajo farmers.
Sen. John McCain, R-Ariz., said it was "shameful" that six weeks after the spill, the Navajo "are still reeling from EPA's calamitous failure." McCain told McCarthy he was outraged that no one at EPA had been fired or disciplined as a result of the spill.
"You think no one did anything wrong. It was no one's fault," he told McCarthy.
"I'm not suggesting this wasn't a disaster. It clearly was," she said.
McCarthy disputed comments by Republican Sens. Dan Sullivan of Alaska and John Barrasso of Wyoming that a private company responsible for the spill would face stiff fines from the EPA.
"I think EPA ought to be held to an even higher standard" than a private company, Barrasso said.
McCarthy said a private company would likely not face fines for an accident that occurred during a cleanup similar to the one at the former Gold King Mine. The only exceptions would be if the company's actions went "against a settlement" or an administrative order by the EPA, she said.
The EPA's inspector general and the U.S. Interior Department are reviewing the incident, and EPA officials and contractors will be held accountable for any wrongdoing, McCarthy said.
McCarthy defended the independence of the Interior Department review, which comes at her request. While several GOP lawmakers asked for paperwork outlining the scope of the investigation, McCarthy said she did not have documentation, adding that it was up to Interior to decide what to look at and how the inquiry will unfold.
"We are hands-off on this issue," she said, adding that EPA is "going to live with whatever scope" Interior decides is appropriate.
Republicans and Democrats in Congress have announced a variety of bills to respond to the spill, including a measure sponsored by Democratic Sens. Martin Heinrich and Tom Udall of New Mexico to establish a Hardrock Reclamation Fund, funded by new royalties on minerals extracted from public lands, as well as so-called Good Samaritan authority to allow third parties to cleanup mine sites they had no role in creating.
The EPA has suspended cleanup work and site investigations at 10 polluted mining complexes in four states because of conditions similar to those that led to the Colorado spill. Four sites are in Colorado, three in California, two in Montana and one in Missouri.