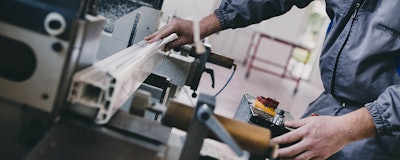 LONDON — Manufacturing output in Britain fell in April at its fastest rate in five and a half years, official figures showed Monday, a development that raises questions over an anticipated economic rebound in the second quarter.
The Office for National Statistics said manufacturing output, which accounts for around 10 percent of the British economy, shrank 1.4 percent during the month. That was the largest fall since October 2012.
As a result, overall industrial production, which also includes things like energy output, fell by 0.8 percent. That decline was unexpected, with the consensus among economists for a modest increase.
The decline is likely to raise concerns that the British economy's first-quarter slowdown may be more protracted than thought and that uncertainty over Britain's exit from the European Union is weighing on growth.
In the first three months of the year, quarterly economic growth slowed to just 0.1 percent with many blaming a long winter.
James Smith, an economist at ING, said the "disappointing" manufacturing data may temper expectations that the Bank of England will raise interest rates during the summer. Having last month opted against raising its benchmark rate by a quarter point to 0.75 percent, many economists said a hike is possible in August if economic figures improve.
"If the economy continues to show only limited signs of recovery, then the Bank may well opt to remain on hold in August," Smith said.
The pound was trading 0.3 percent lower at $1.3366 after the figures.
There's a raft of economic figures due this week, including wage data on Tuesday and inflation numbers on Wednesday. Both could influence expectations over the prospect of a near-term interest rate hike.
Pablo Shah, an economist at the Centre for Economic and Business Research, said policymakers at the Bank of England are in a quandary as high oil prices and rising wages are set to push inflation up in coming months and prompt a rate hike.
"This would represent another obstacle to growth that the U.K. will have to contend with, as evidence mounts of a more persistent slowdown in the economy," Shah said.