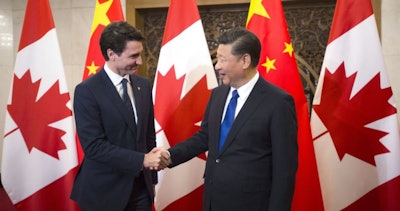 Canada has high hopes for a trade agreement with China but won't rush into negotiations that could affect their economies for generations to come, Canadian Prime Minister Justin Trudeau said Tuesday.
On the second day of a visit to Beijing, Trudeau told reporters that Canada was "constantly engaged" on trade issues with China as part of exploratory talks on a trade pact launched two years ago that have tackled issues such as agricultural exports.
Despite hopes that formal talks on an agreement would be announced during Trudeau's visit, it appeared that wasn't going to happen.
"For the past two years, we've been working on deepening our trade ties, our opportunities for small businesses, for Canadians to benefit from better access to the Chinese market while standing up for our interests and jobs back home," Trudeau said.
"This is something that is an ongoing process that we take very seriously and of course we are going to continue to talk about opportunities to benefit Canadians every moment that we have" in both China and back in Canada, he said.
Rather than announcing trade talks, Trudeau instead touted an agreement with China on the importance of dealing with climate change and upholding the 2015 Paris agreement, despite President Donald Trump's aim to withdraw the United States from the accord to cap greenhouse gases.
"Our shared concern for our environment will continue to be featured prominently in everything we do," Trudeau said. "Climate change is without a doubt one of the greatest challenges of our time, one we cannot and one we will not ignore."
Trudeau met with Chinese President Xi Jinping later Tuesday.
"I'm sure this visit will be a success and inject new vitality into China-Canada relations," Xi told Trudeau.
The lack of a concrete agreement on trade talks drew questions from some in Canada.
"Prime ministers usually don't go on trips like that without something to announce," John Manley, CEO of the Business Council of Canada, was quoted as saying by the public Canadian Broadcasting Corp.
China has positioned itself as a leading advocate of free trade, particularly since Trump pulled the U.S. out of the Trans-Pacific Partnership, a pan-Pacific trade deal. Yet foreign businesses often complain that China closes many key areas to foreign investment, and Xi is known to favor a centralized economic model with special support for state-owned industries.
Canadian businesses have also been unsettled by Trump's threat to renegotiate or even withdraw from the North American Free Trade Agreement. Trudeau said it was important to oppose economic nationalism, but said he was also looking for ways to "improve NAFTA for the 21st century."
After meeting with Premier Li Keqiang on Monday, Trudeau said Canada hopes a trade agreement with China will reflect "Canadian values" in the areas of labor rights, environmental protection and gender equality. That approach runs against China's inclination to keep such issues separate and avoid links to human rights or civil liberties.
On Tuesday, he reaffirmed Canada's approach of seeking a durable agreement, despite the lengthy timeframe demanded.
"We are going to work very hard, very responsibly to make sure that as we move forward, we move forward in the right way," he said. "Once we get to the stage of negotiating a trade agreement, that's going to take years as well."
In addition to seeking a trade pact with China, Canada has remained part of the Trans-Pacific Partnership. During recent talks in Vietnam, Trudeau lobbied for strong provisions for environmental protection, labor rights, and gender issues, and the name of the initiative was altered to be the Comprehensive and Progressive Agreement for Trans-Pacific Partnership.
China largely imports wood and agricultural products, ore, fuels and seafood from Canada, while Canada imports machinery, furniture and sporting goods and textiles from China. The trade imbalance has narrowed, but China still ran a surplus of about $17 billion with Canada during the first half of this year, according to the Canadian government.