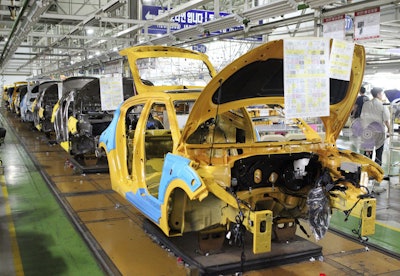 Hyundai Motor's workers have resumed production after a walkout on two assembly lines, the company and the union said Wednesday.
Workers returned to the plant in Ulsan, 380 kilometers (236 miles) southeast of Seoul, late Tuesday. Nearly 2,000 workers, or 4 percent of the company's 51,000 union members, had stopped work Monday after talks collapsed over the terms for producing the Kona, Hyundai's first compact SUV. The talks had resumed, Hyundai said.
The walkout delayed production of about 1,200 vehicles, Hyundai said. The Kona is due to launch in the U.S. market early next year.
Among other issues, the union said it was concerned that workers might lose jobs because the assembly process for the Kona is more automated than for the Accent, a sedan also being manufactured at the Ulsan plant.
Hyundai, part of the world's fifth-largest auto group along with its smaller affiliate Kia Motors Corp., introduced the Kona in South Korea in June.
Having focused on passenger sedans, the company is now trying to catch up in the faster-growing SUV market.
The Kona has proved to be a bright spot during a tough year as Hyundai's sales tumbled in China and in the United States.