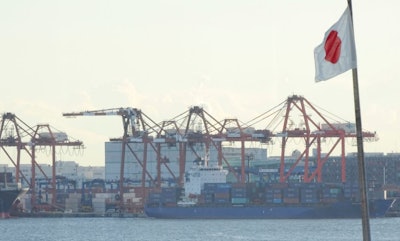 Japan's exports and imports rose at a fast clip in July, reflecting a recovery in demand in China, Southeast Asia and the U.S., though export prices rose faster than volumes for many products.
Exports rose more than 13 percent from a year earlier to 6.5 trillion yen ($59 billion) while imports jumped 16 percent to 6.1 trillion yen ($55 billion), helped by a surge in oil and coal shipments, according to data released Thursday.
The resulting trade surplus slipped 17 percent from a year earlier to 419 billion yen ($3.8 billion).
Trade actually dragged on growth in the world's third-largest economy in the April-June quarter but likely will provide a slight boost for the year, Marcel Thieliant of Capital Economic said in a commentary.
He is forecasting a 6 percent rise in export volumes, while import volumes will increase by about 3 percent. "The upshot is that we expect net exports to lift 2017 GDP growth by around 0.5 percentage points," he said.
Japan reported earlier this week that its economy expanded at a 4.0 percent annual pace April-June. The rate of expansion for the year is expected to be much lower, at below 2 percent.
In July, Japan's exports to the U.S., mainly of cars, car parts and machinery, jumped 11.5 percent to 1.3 trillion yen ($12 billion). Imports climbed 14 percent to 671.7 billion ($6.1 billion), as fish and meat shipments surged.
Oil imports, half of which came from the Middle East, jumped 26 percent year-on-year to 1.2 trillion yen ($11 billion). Japan's imports of liquefied natural gas surged 47 percent from a year earlier and coal imports jumped 68 percent.
China's imports from Japan surged 18 percent to 1.2 trillion yen. Japan's exports to ASEAN, 10 countries belonging to the Association of Southeast Asian Nations, also jumped 18 percent, to 1.0 trillion yen ($9 billion), with strong growth in appliances and other devices.
Much of Japan's trade with other Asian countries is components and machinery used in manufacturing. Strong exports of machinery and electrical machinery suggest a recovery in activity in those countries.