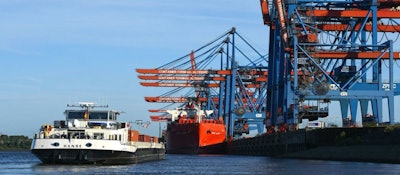 German imports dropped sharply in June over the previous month, outpacing a drop in exports and widening the country's trade surplus.
The Federal Statistical Office said Tuesday exports fell 2.8 percent in June over May, while exports dropped 4.5 percent. The trade surplus widened to 21.2 billion euros ($25 billion) from May's 20.3 billion euros.
The surplus has caused friction with the U.S. and other countries, which accuse Berlin of not doing enough to spur domestic demand for foreign goods.
In unadjusted terms, exports rose 0.7 percent in June 2017 compared with June 2016, while imports rose 3.6 percent. Exports to EU countries increased 2.4 percent, while dropping 1.7 percent to non-EU countries.
Imports from EU countries rose 1.7 percent, and increased 7.5 percent from non-EU countries.