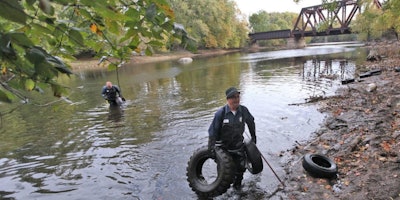 Argentina's efforts to bolster its trade with the U.S. could run into complications due to its ties to a former producer of Agent Orange.

Mauricio Macri, Argentina's president and a longtime business associate of Donald Trump, visited the White House last week to tout his country as a potential trade partner — and potentially help jump-start a struggling economy back home.

But the visit came as officials at both the federal and state levels fight with Argentina's state-owned oil company over pollution in the Passaic River in northeastern New Jersey, Foreign Policy reports.
The Passaic is in the midst of one of the most expensive industrial cleanup efforts in the U.S. history after decades of heavy manufacturing clouded the river with metals, pesticides and other toxins.

Hundreds of companies that operated factories along the Passaic were blamed for the contamination, but authorities are particularly interested in the operators of a Newark facility that formerly produced Agent Orange.

The potent herbicide was famously used to clear vegetation for U.S. forces during the Vietnam War, and the Newark factory likely contributed to the bulk of carcinogenic dioxins polluting the lower Passaic.

Diamond Alkali, which made Agent Orange in Newark, merged with another company in the late 1960s and was then acquired by Maxus Energy Corp. in 1983. Occidental Chemical acquired Maxus' chemical business three years later, but the remainder of Maxus' operations — and liabilities — was purchased by YPF, the state-owned Argentinian company, in 1995.

Maxus declared bankruptcy last summer, but New Jersey lawmakers alleged that the filing was a deliberate effort by YPF to avoid contributing to the nearly $1.4 billion cost of cleaning up the Passaic. The federal government, meanwhile, is challenging the bankruptcy filing in court.

"Unbeknownst to most Americans, YPF is trying to stick the U.S. government with its share of the cost of cleaning up one of America's most polluted rivers while at the same time raising billions of dollars on Wall Street," New Jersey Democrats Sen. Bob Smith and Rep. Tim Eustace wrote in an op-ed last week.

Foreign Policy noted that YPF is particularly important to Marci's political fortunes since its revenues will be needed to fund reforms and social programs. His White House visit, however, largely focused on other issues, from political instability in Venezuela to narcotics trafficking to lemon imports.

"We're just going to be great friends, better than ever before," President Trump told reporters during their meeting.