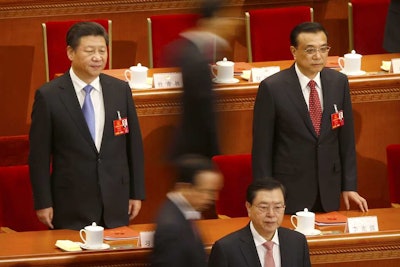 China's No. 2 leader expressed hope Tuesday that disputes with U.S. President Donald Trump's government can be settled amicably and warned a "trade war would benefit nobody."
Despite Trump's promises to raise duties on Chinese goods, Premier Li Keqiang said Beijing has a "stable, optimistic outlook" on trade with the United States.
Li took the unusual step of making an impromptu statement to reporters during an appearance with his French counterpart, Bernard Cazeneuve.
"Let the figures do the talking," the premier said, citing American jobs supported by U.S.-Chinese trade.
"We have faith that, with mutual respect and on the model of cooperation through equality, issues of trade friction can be resolved amicably," Li said. "A China-U.S. trade war would benefit nobody, (and) would not benefit the world."
Trump pledged during his election campaign to raise import duties on Chinese goods to 40 percent but has yet to take formal action.
Trump argues that the existing order has short-changed Americans by exposing them to unfair competition with low-wage foreign laborers and to unjust trade practices by China and others.
His promise to raise import barriers has given Chinese leaders an opening to present themselves as champions of free trade, though other governments have said theirs is the most closed major economy.
In an implicit rebuke to Trump, the Chinese president, Xi Jinping, delivered a ringing endorsement of trade during a January speech at the World Economic Forum in Davos, Switzerland. He appealed to world leaders to "say no to protectionism."
Earlier Tuesday, the Chinese commerce minister delivered a similar message at a news conference, appealing to Washington to cooperate in promoting trade and a global economic recovery.
Gao Hucheng urged Washington to "properly solve" disputes through "dialogue and cooperation."
He argued both sides have benefited from what has grown into the world's biggest trading relationship.
"A trade war should not become an option," Gao said. "If the two sides fight, all will be hurt."
Gao said Beijing had refrained from responding to Trump earlier because it wanted to see what Washington does.
"We noticed various remarks made by presidential candidates during the election but didn't want to comment too much because we wanted to see what stance the new government would take toward trade relations with China," he said.