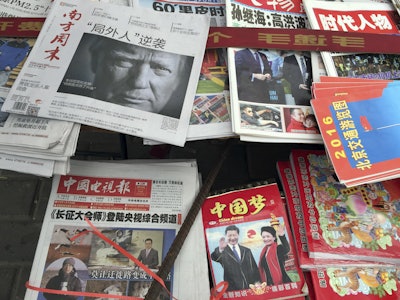 China pushed back Wednesday against President-elect Donald Trump's threat to use sanctions to win back a competitive trade advantage for the United States.
On the campaign trail, Trump had threatened to slap 45 percent tariffs on Chinese products and to label China a "currency manipulator." But Zhang Xiangchen, China's deputy trade representative, warned that Trump will find he is bound by the rules of the World Trade Organization, which restrain countries from imposing sanctions without making a persuasive case for them. China can challenge any sanctions at the WTO.
Speaking at the end of annual U.S.-China trade talks, Zhang also disputed the idea that China keeps its currency artificially low to give its exporters a price advantage. Many economists agree that China no longer manipulates its currency, the yuan.
At the meeting, the United States and China agreed to continue working on vexing issues such as China's overproduction of steel. U.S. Trade Rep. Michael Froman stressed the importance of keeping the commercial relationship with China "on as even a keel as possible."
But the talks were overshadowed by the prospect of a new administration that vows to take a more aggressive stance toward Chinese trade practices, which, Trump has charged, have wiped out U.S. jobs. He has pointed to the gaping U.S. trade gap with China — $334 billion last year — as a key factor in destroying those jobs.
The trade gap is the amount by which the value of Chinese products imported to the United States exceeds the value of what the United States exports to China.
The United States and China sold each other $598 billion in goods last year, ahead of the $576 billion the U.S. exchanged with No. 2 Canada.
China is undergoing a difficult transition from economic dependence on exports and investments in real estate and factories to slower growth built around spending by its own consumers. U.S. officials have encouraged the shift, saying it would open opportunities for American companies, especially in services such as banking and law.