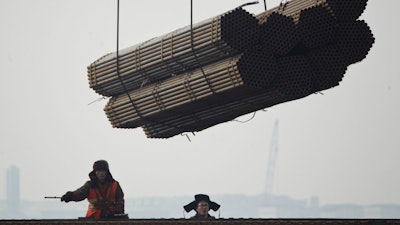 China's trade shrank in April in a sign government stimulus is failing to jolt the world's second-largest economy out of a prolonged slowdown.
Exports contracted by 1.8 percent from a year earlier to $172.7 billion, falling back into negative territory after March's temporary burst of 11.5 percent growth, customs data showed Sunday. Imports plunged 10.9 percent to $127.2 billion after the previous month's 13.8 percent contraction.
Weak demand from consumers in China and worldwide is hampering government efforts to reverse an economic slowdown that dragged growth to a seven-year low of 6.7 percent in the first quarter of the year.
Beijing has eased controls on credit growth and real estate purchases in hopes of stimulating activity but analysts said the impact was likely to be temporary. They said March's unexpectedly strong trade growth also was a fluke due to comparison with weak numbers last year and the resumption of business after the Lunar New Year holiday in February.
Surveys of manufacturers showed factory activity weakened in April and the number of people employed declined.
The ruling Communist Party is in the midst of a marathon effort to nurture more self-sustaining growth based on domestic consumption instead of trade and investment. But its plans call for trade to keep growing in order to avoid job losses in export-related industries that employ tens of millions of workers.
Economic growth has declined steadily over the past five years. Much of that was intentional but the unexpectedly severe weakness over the past two years has forced Beijing to resort to multiple rounds of mini-stimulus through stepped up bank lending and spending on construction of public works, temporarily setting back its efforts to generate consumer-driven growth.
So far this year, exports have contracted by 7.6 percent compared with a year earlier and imports are down 12.8 percent, according to the General Administration of Customs. That is down sharply from previous years when trade grew by double digits.
Weakness in Chinese imports has hurt its Asian neighbors, for nearly all of whom China is the biggest trading partner and a major buyer of raw materials and industrial components. The impact has been felt around the globe in commodity exporters such as Australia and Brazil.
The country's politically sensitive global trade surplus was $45.5 billion in April.
The surplus with the United States was $18.1 billion and that with the 27-nation European Union was $10.2 billion.