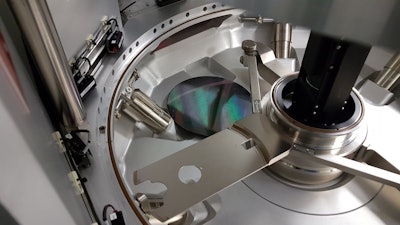 SIFCO ASC
As The Washington Post reported this February, credit and debit card issuers are just the latest sector affected by a serious global semiconductor shortage that has plagued the automobile and technology sectors since chip demand spiked during the pandemic. Supply-chain issues have also contributed to the problem.
"The pandemic highlighted how semiconductor suppliers were ill-prepared for shocks, as some manufacturers faced thousands of product shortages per day," reported American Machinist.
"There is no easy or certain way to solve the semiconductor manufacturing challenges. However, the organizations affected by these issues must adopt a forward-thinking perspective and be open to investing in new technologies."
With chip factories expensive to build and labor-extensive to operate, there's certainly no quick-fix solution. In fact, it takes an estimated minimum of $10 billion to build a new chip manufacturing plant. Intel, for example, plans to build two semiconductor factories in Ohio — however, the project would require approximately 7,000 workers in the midst of an ongoing workforce and talent shortage.
This crisis in semiconductor manufacturing has led to the US Government's CHIPS and Science Act to boost American semiconductor research, development, and production.
According to a recent White House statement: "America invented the semiconductor, but today produces about 10% of the world's supply – and none of the most advanced chips. Instead, we rely on East Asia for 75 percent of global production. The CHIPS and Science Act will unlock hundreds of billions more in private sector semiconductor investment across the country, including production essential to national defense and critical sectors."
Spurred by the passage of the CHIPS and Science Act of 2022, companies announced nearly $50 billion in additional investments in American semiconductor manufacturing during 2022, bringing total business investment to nearly $150 billion since President Biden took office.
Further challenges for the semiconductor industry
Alongside the recent shortages, the semiconductor industry still faces several challenges that affect the reliability and durability of semiconductors – especially corrosion, which can occur due to exposure to moisture and other environmental factors. Corrosion can cause numerous serious problems such as reduced performance, device failure, and increased maintenance costs.
Other significant issues include:
Miniaturization: As the demand for smaller and more complex devices increases, the size of semiconductors continues to shrink. This makes it more difficult to protect them from environmental factors like moisture, which can cause corrosion and other damage.

Material Compatibility: Semiconductors are made from a variety of materials, each with unique properties and characteristics. The challenge is to find a coating material that is compatible with the semiconductor material and provides adequate protection against corrosion.

Cost: The semiconductor industry is highly competitive, and cost is always a concern. That's why manufacturers must seek cost-effective solutions for corrosion protection without sacrificing quality.
Selective plating: an effective solution for corrosion protection
Selective plating is an electroplating technique that is used to deposit a thin layer of metal on a specific area of a substrate to provide corrosion protection for semiconductor components. A major advantage of selective plating is that it can be used only on the areas that need protection. This can help to reduce material usage and minimize the impact on the device's electrical properties.
Another further benefit of selective plating is that it can be used with a variety of metal coating materials, including gold, silver, and nickel. This makes it possible to choose a coating material that is compatible with the component's base material and provides adequate protection against corrosion.
Finally, selective plating is a cost-effective solution for corrosion protection. The technique is relatively simple and can be performed on-site with standard electroplating equipment. This makes it possible to integrate selective plating into existing production processes without significant additional investment.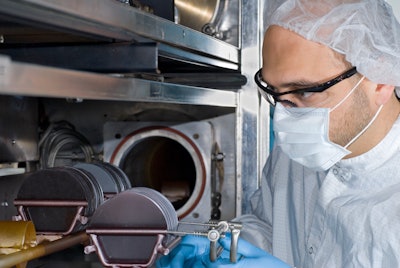 How SIFCO ASC can help
As selective plating experts for more than half a century, SIFCO ASC is already recognized as the global leaders in the sector. They have the knowledge and expertise to assist manufacturers of aluminium chemical vapor deposition (CVD) tooling which requires Selective Nickel Plating (SNP).
This tooling gets worn out with use and is replaced by the semiconductor manufacturers. Research into the possible recoating of tooling is being investigated as an option to prolong the life of the equipment and avoid any unnecessary repair costs or downtime.
When it comes to the steel enclosures used in CVD processing equipment, manufacturers require selective plating of zinc with the main purpose of create ground area for electrical panel cabinets.
"In the concept and design phase, we offer R&D and Engineering expertise to develop a solution for clients' application," explains Danijela Milosevic, who joined the firm in 2005.
"Then in the production phase, our technical support team and contract service technicians can provide the skill and labor to carry out the most demanding applications. We have certified trainers that can offer a hands-on experience for our customers so that they can plate their equipment on site without disruption to their production. Technicians will learn how to troubleshoot plating applications and accurately plate numerous deposits.
"Finally, our procurement and logistics teams ensure solutions, supplies and equipment are readily available when and where they are needed," she adds. "Throughout the process, our sales and technical staff support every client."
The SIFCO Process
The SIFCO Process was developed more than 50 years ago, and was initially used for industrial repair applications, with early acceptance by the US Navy. Over the years, we have developed the SIFCO Process® to service a wide range of industrial repair and manufacturing applications.
The range of metals used in selective plating is extensive. The SIFCO Process® is used to apply any metals that are traditionally carried out by tank electroplating, the most common being; nickel, Silver, gold, and platinum. A variety of binary alloys can also be plated depending on the application requirements.
There are several preparatory steps in which a work area is prepared to receive an adherant deposit. The appropriate preparatory procedure is determined by both the substrate of the component and the plating solution to be applied. The thickness of the plating is accurately controlled through use of an ampere-hour meter and once the required ampere hours are reached, plating is stopped and finished with a final water rinse and dry.
The process can be carried out manually, it can be mechanized, or it can be automated for high volume applications.
For more information, visit www.sifcoasc.com/semiconductor.