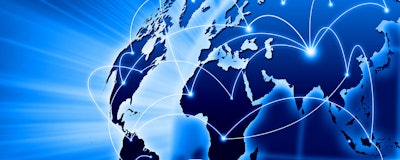 The global manufacturing industry had a positive 2016 defined by key trends such as the increase of automation, which led to a shift of the workforce towards training and maintaining robots; a growth in R&D spend with China leading the way and an increase in outsourcing.
According to a 2016 Nice Insight CRO and CDMO Outsourcing survey, pharma and biotech companies were two of the industries where spending for outsourced services took a big leap compared to previous years.
Competing on a Global Scale
Deloitte's Global Outsourcing Survey 2016 indicates that outsourcing is a trend likely to continue, despite significant changes in the regulatory environment across various industries in the last couple of years. Today, customers are expecting innovative services from their managed service providers, and value, rather than cost, is the new key word. This value will be driven by how companies make innovation a key element of their growth.
Technology is a fundamental element of this innovation — it has broadened the playing field and this expansion has increased competition. New technologies, such as The Internet of Things, Robotics, Augmented Reality and 3D printing have made the landscape even more competitive, meaning organizations tendering for work are no longer just competing with their closest neighbour, but instead are competing with other manufacturing companies operating in the same field of expertise from around the world.
Outsourcing offers a strategic solution to easing pressure on the production cycle and enables these companies to leverage the expertise of CDMOs, helping them respond to increased competition pressures, without compromising their own business objectives.
Why Use CDMOs?
Previously, outsourcing was considered a purely cost cutting strategy but now organizations are using outsourcing as a tool for accelerating innovation and business efficiency. More and more agile start-ups are entering the manufacturing sphere offering specialist services and products. As a result, organizations are adapting their business models to be more agile, competitive and attractive to customers in the global market.
There are several benefits of outsourcing that have contributed to its popularity in the manufacturing sector and these include speed, the need to streamline the supply chain and accessibility to specialist knowledge and equipment.
Organizations have access to a wide range of skills and resources through CDMOs that can complement and enhance their own offering. Forty-seven percent of respondents in Deloitte's 2016 Global Outsourcing Survey viewed outsourcing as a positive solution to bridging infrastructure issues, and 57 percent stated outsourcing allowed them to focus on core business functions. Deloitte's survey represents global attitudes towards outsourcing as the respondents surveyed have operations across North America, Europe, Asia Pacific, South America, Middle East and Africa. Creating quality and qualified materials for production is crucial to the overall supply chain of any manufacturing business, and outsourcing the production of specific components can streamline the supply chain.
The traditional model of creating everything in-house, from research to manufacturing, is no longer the most efficient model. For example, if an organization needs to generate a purified biologics material for a new client the equipment or expertise may not be available in-house. Outsourcing to a CDMO can grant organizations access to innovative technologies and expertise they can't economically bring in-house to facilitate new business, or introduce into the supply chain in a timely manner. With outsourcing, a manufacturing organization's equipment inventory is far more flexible, meaning they can grow or shrink as required, which is far more cost effective — especially when compared to the traditional approach of researching, buying and training staff on new equipment, something that can take weeks or even months.
Benefits on Both Sides of the Coin
The global market for outsourced manufacturing has been fortified by outsourcing as organizations set-up new partner networks and collaborations to enable new business, in new geographies. However, it is not just established organizations benefiting from outsourcing, CDMOs are benefiting from the increased collaboration as their niche offering can grow to global opportunities.
Take a look at biopharmaceutical manufacturing companies, for example, who are increasing outsourcing activities such as cell line stability testing and host cell protein analysis testing. Another staggering example of outsourcing's popularity is reported in ISR's Contract Development and Manufacturing Outsourcing Models report, where it's claimed that two thirds of pharmaceutical manufacturing is now outsourced.
It's clear that outsourcing is now well-established with large organizations. It is no longer a question of if we should outsource but a question of when and how.
Best Practice When Working With CDMOs
There are four common concerns among organizations seeking to outsource to CDMOs, which are security, systems integration, regulation compliance and communication.
Collaborating with third parties typically requires sharing data, specifications of a project and the sensitive information regarding the scope of work. Once a contract is initiated, it is not unusual for interim data to require review by the customer while a project is in flight. Many processes require a manufacturing process to be split between multiple vendors in a coordinated process, requiring efficient logistics to coordinate,
To achieve desired cost savings, provide scalability needs, and achieve the accelerated time to market expected through outsourcing, it may be necessary for organizations to integrate and coordinate systems during collaboration — but integrating information and systems between organizations is not always a simple process, and concerns about data security and the protection of intellectual property are common. Historically, the availability of commercial off-the-shelf solutions to help organizations simplify collaboration and the outsourcing process in an efficient and cost-effective way has been limited — and it's forcing the market's hand. Thankfully, we are now seeing an increase in the development of new tools and products specifically designed to foster improved B2B collaboration.
Conclusion
Technology will continuously evolve to meet the demands of the industry. Ambitious and innovative organizations looking to compete on a global scale are investing in establishing a well-structured and trustworthy partner network. To further enable outsourcing, organizations are looking for sophisticated data management software solutions to integrate into their operations to fuel collaboration, but they're not stopping there. Organizations increasingly viewing their software providers as important partners in the outsourcing process, with the right provider improving the start-up time, the integrity, and ultimately the value, of any collaboration project.
Scott Weiss is Vice President of Product Strategy at IDBS