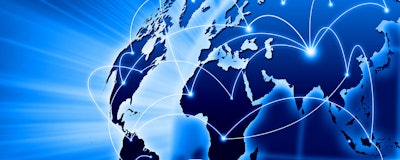 As retailers increasingly turn to the GS1 Global Data Synchronization Network (GDSN) for storing and exchanging product data, more manufacturers are joining the network and adopting its GS1 data standards to work more efficiently with their trading partners.
As GDSN adoption grows, manufacturers should know how to choose the GDSN data pool that's right for their business and also know best practices for implementing GS1 data standards.
Let's take a closer look at how global data synchronization works—and how to make it work for you.
What is GDSN?
GDSN is a product data network that provides retailers and manufacturers with consistent, up-to-date product data that is standardized across the globe. Standard identifiers, called ID keys, are assigned by GS1 to each product that the manufacturer chooses to setup within the GDSN. ID keys detail each product's qualities — such as size, shape, location and other key shipping and logistical information. Once ID keys are assigned, a manufacturer inputs its information into a GDSN data pool — which is tested and certified to meet GS1 standards — where it is validated, synchronized and managed.
Boasting a core sector of users in the retail, healthcare, transportation and food service industries — including retail giants like Walmart, Lowe's, Target, Best Buy and many more — the GS1 standards have cemented their place in the retail industry, providing accurate, consistent shipping and logistics data to trading partners on demand. GDSN is quickly gaining notoriety — the world's largest online and mobile trading market, Alibaba Group, recently announced its endorsement of the GS1 standards, encouraging its brand owners to join.
By implementing GDSN, manufacturers can work more efficiently and effectively with their retailer partners, ensuring that retailers have the information needed to best receive, store and sell products.
Why GDSN?
Thorough, consistent and standardized product data is a key to success in the retail industry. Because GDSN is a global language of business, the data can be read and used across the world. The GDSN platform allows manufacturers to update their product data in real time, mitigating the risk of retailers receiving incorrect shipping and logistical information that could lead to delivery or storage issues.
Choosing Your Data Pool
GS1 product data is hosted in a data pool — think of it as your service provider, and these providers are all interoperable. While all data pools offer GDSN data storage and synchronization, manufacturers must consider an array of factors when choosing which one of the 33 certified data pools worldwide that they will use.
Here are a few things manufacturers should consider when choosing a GDSN data pool:
Marketing & Private Data: The GS1 network stores logistical and shipping product data, but marketing data — such as photos, videos, descriptions, as well as private data like pricing, SKU numbers and in-store discounts — are often managed elsewhere. One way to manage this data is with a GDSN data pool that offers a full solution, so that all of your data is in one central repository. By storing GDSN data, marketing data and private data in one solution, manufacturers can manage and distribute this product content more efficiently, creating a better omnichannel experience for your customers by ensuring thorough and consistent product listings across all platforms.
Data Input: Uploading complete and robust GDSN data into the GDSN platform is necessary to reap the benefits of this system, and it's necessary to pass GS1's strict data validations. When looking for a data pool, consider how your company can most efficiently upload your product data — via spreadsheet, manual input or otherwise — and discuss the options for implementation with different GDSN providers to find the best fit.
Customer Service: Though most GDSN interfaces are user-friendly, customer service is about more than just troubleshooting and support. Find a data pool that also cares about your success. A few things to consider are hours of support, channels of support — direct phone number, contact form, email or otherwise — and ongoing training initiatives for customers. For peer reviews of GDSN service providers, seek out information on software review sites like G2Crowd.
Pricing Model: Providers charge for their services in a variety of ways, including by company size or revenue, number of active SKUs, number of endpoints or recipients receiving the data, etc., so consider the pricing model of a data pool to determine what's best for your company. It's also important to be aware of what's included in your base price, such as the number of users able to access the platform, if you'll have help during GS1 updates — comparable to updating your iPhone software, but on a much larger scale — customer service accessibility and more.
GDSN is sure to change the supply chain as we know it, and for the better, improving efficiency and effectiveness with standardized, robust and up-to-date product data. As more retailers transition to the GS1 network, it's important that manufacturers do their due diligence to find the data pool that's right for their company.
Patrick Conley is a National Account Manager at Edgenet.