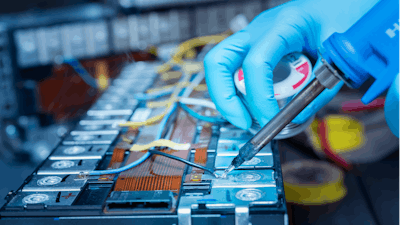 iStock
With the Fraunhofer Institute for Manufacturing Engineering and Automation IPA and acp systems AG, Customcells is working on a smart battery factory at the Tübingen site. The collaborative project, TwinTrace, is focusing on the digitalization of battery cell production.
Setting the digital course for the future of battery cell production and under the leadership of Customcells, the joint project TwinTrace brings together partners from industry and research to ensure particularly efficient production processes with the help of a so-called digital twin.
With TwinTrace, project partners are raising the quality and traceability of battery cell production to a world-leading level and setting standards for smart digitization in the industry.
The research project is funded by the German Federal Ministry of Economics and Climate Protection (BMWK).
Premium processes for global market leadership
"The future of battery cell development and production is undoubtedly networked and high-tech," said Dr. Dirk Abendroth, CEO of the Customcells Group. "The digitalization of the entire process chain contributes to more sustainability and greater efficiency. Such innovations underline our claim of being a leading global brand in the field of premium battery cells."
Within the framework of TwinTrace, all relevant product and process data relating to the manufacture of the battery cell are determined. This enables traceability of all material and product components and also creates the basis for the creation of a digital twin.
A digital twin is a virtual representation of a real object or process. The twin uses data and information about the product or process it is supposed to represent in real time. This makes it possible to simulate, analyze and optimize the behavior of products or the performance of a process - all without having to change the product or process itself.
In the case of TwinTrace, artificial intelligence (AI) is also used to determine the ideal process parameters for each battery cell during the various manufacturing steps and to control the process accordingly in a data-driven manner.
Direct collaboration between industry and research for more innovation
"The direct exchange between research and industry is essential in this area, as in the end it is always the scalability of a solution that makes the difference. The joint project provides us with valuable insights for this which we can also take into account in our further research work," said Michael Oberle from Fraunhofer IPA.
Use of machine learning in monitoring of active cells
Beyond TwinTrace, Customcells is also driving digitalization and testing the use of various digital tools and techniques in manufacturing and development. The use of technologies such as machine learning and digital twins opens up a wide range of possibilities in areas such as material development, process optimization and the monitoring of active cells.