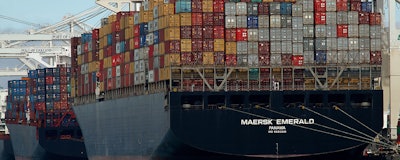 BEIJING (AP) — A U.S. government report ahead of a meeting between Presidents Donald Trump and Xi Jinping accuses China of stepping up hacking aimed at stealing American technology as a tariff dispute escalated.
Trade Representative Robert Lighthizer's report reflects U.S. skepticism and a possible source of new acrimony ahead of the meeting in Buenos Aires aimed at defusing the dispute companies worry will chill global economic growth.
The two sides have raised import duties on billions of dollars of each other's goods in the fight over U.S. complaints Beijing steals or pressures companies to hand over technology.
Chinese hacking efforts aimed at stealing American technology and trade secrets have "increased in frequency and sophistication" this year, said Lighthizer's report, issued Tuesday in Washington.
Asked about the report, a Chinese foreign ministry spokesman, Geng Shuang, said U.S.-Chinese trade relations were "mutually beneficial" and it was "natural to have trade frictions."
"The key is to engage in dialogue and consultation on the issue based on mutual respect, equality and good faith," Geng said at a regular briefing.
Trump is pressing Beijing to roll back industry plans its trading partners say violate its market-opening obligations that Chinese leaders see as a path to prosperity and global influence.
Those include "Made in China 2025," which calls for state-led creation of Chinese champions in robotics and other fields.
American and Chinese officials have been talking in preparation for the Trump-Xi meeting and news reports say Bejiing has sent written proposals but no details have been released.
Beijing has tried without success to recruit France, Germany, Japan and other governments as allies against Trump. They dislike his tactics but echo U.S. complaints.
The European Union filed a challenge in the World Trade Organization in June to Chinese policies it said improperly limit the ability of foreign companies to control and profit from their technology.
"China fundamentally has not altered" its technology policy "and indeed appears to have taken further unreasonable actions," Lighthizer's report said.
Attacks by possible "Chinese state-sponsored entities" against companies in cloud computing, artificial intelligence and other technologies increased since mid-2017, according to Lighthizer.
That include a "sharp rise" in hacking against manufacturers in the three months up to September — "a type of attack that has been frequently tied to Chinese economic espionage," Lighthizer said.
China is, along with the United States and Russia, regarded as a leading power in military cyber spying.
Xi agreed with Trump's predecessor, Barack Obama, during a visit to the United States in 2015 to refrain from using military resources to steal commercial secrets. American officials have accused China of reneging on that agreement.
An indictment unsealed last month charges a Chinese intelligence officer with trying to steal technology from U.S. and European aerospace companies.
Lighthizer said China also has pressed ahead with improperly trying to acquire U.S. technology by covertly purchasing companies and other tactics.