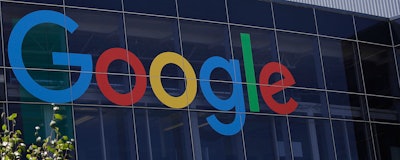 BOSTON (AP) — A Nigerian internet service provider said Tuesday that a configuration error it made during a network upgrade caused a disruption of key Google services, routing traffic to China and Russia.
Even with MainOne's explanation, there was speculation that Monday's 74-minute data hijacking might not have been an accident. Google's search, cloud hosting and corporate-focused G-Suite collaborative tools were among services disrupted.
"Everyone is pretty confident that nothing untoward took place," MainOne spokesman Tayo Ashiru said.
But Jake Williams, president of Rendition InfoSec and a former U.S. government hacker, said a skeptic should not rule out meddling by a nation-state with something to gain. The level of corruption in a country like Nigeria is well known, he said.
The type of traffic misdirection involved can knock essential services offline and facilitate espionage and financial theft. It can also be used to block access to information by sending data requests into internet black holes. Experts say China, in particular, has systematically hijacked and diverted U.S. internet traffic.
But the problem can also result from human error. It's very difficult to tell the difference, said Williams.
Google said it had no reason to believe the traffic hijacking was malicious.
Ashiru said engineers at MainOne, a major west African ISP, mistakenly forwarded to China Telecom addresses for Google services that were supposed to be local. The Chinese company, in turn, sent along the bad data to Russia's TransTelecom, a major internet presence. Ashiru said MainOne did not yet understand why China Telecom did that, as the state-run company normally doesn't allow Google traffic on its network.
The traffic diversion into China created a detour with a dead end, preventing users from accessing the affected Google services, said Alex Henthorn-Iwane, an executive at the network-intelligence company ThousandEyes.
He said Monday's incident offered yet another lesson in the internet's susceptibility to "unpredictable and destabilizing events. If this could happen to a company with the scale and resources available that Google has, realize it could happen to anyone."
The diversion, known as border gateway protocol route hijacking, is built into the internet , which was designed for collaboration by trusted parties — not competition by hostile nation-states. Experts say it is fixable but that would require investments in encrypted routers that the industry has resisted.
ThousandEyes said the diversion at minimum made Google's search and business collaboration tools difficult or impossible to reach and "put valuable Google traffic in the hands of ISPs in countries with a long history of Internet surveillance."
Most network traffic to Google services — 94 percent as of Oct. 27 — is encrypted, which shields it from prying eyes even if diverted. But work was interrupted on services like G-Suite, which Google CEO Sundar Pichai in February said had more than 4 million businesses as customers. G-Suite and Google Cloud combined generate about $4 billion in revenue each year.
Google did not quantify the disruption other than to say in a statement that "access to some Google services was impacted."
Indeed, the phenomenon has occurred before. Google was briefly afflicted in 2015 when an Indian provider stumbled. In perhaps the best-known case, Pakistan Telecom inadvertently hijacked YouTube's global traffic in 2008 for a few hours when it was trying to enforce a domestic ban. It sent all YouTube traffic into a virtual ditch in Pakistan.
In two recent cases, such rerouting has affected financial sites. In April 2017, one affected MasterCard and Visa among other sites. This past April, another hijacking enabled cryptocurrency theft .
___
AP Technology Writer Michael Liedtke contributed from San Francisco.