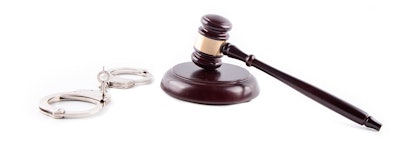 LOS ANGELES (AP) — A California engineer who worked for a defense contractor was sentenced Monday to five years in prison for selling sensitive satellite information to an undercover FBI employee he thought was a Russian intelligence agent.
U.S. District Judge George H. Wu handed down the term for 50-year-old Gregory Allen Justice of Culver City, an engineer on military and commercial satellite programs.
Justice pleaded guilty in May to trying to commit economic espionage and attempting to send restricted information out of the United States in violation of the Arms Export Control Act and International Traffic in Arms Regulations.
Justice "understood that the information he provided would be sent 'back to Moscow and they will review this,'" according to court documents.
Justice received $3,500 during a series of meetings and sent most of that money and thousands more to an "online paramour" he never met, the documents said.
The Los Angeles U.S. attorney's office said that during one of those meetings Justice and the undercover agent talked about developing a relationship like one in the FX television series "The Americans," which depicted two Soviet secret agents living in the guise of an American couple in the U.S.
In a final meeting, Justice offered to take the undercover FBI operative on a tour of the defense contractor's production facility where he could wear special glasses that would allow him to make photographs.
Danny Kennedy, acting assistant director in charge of the FBI's Los Angeles field office, said in a statement that unlike a TV series, "selling secrets to a foreign government is not entertaining, but in the wrong hands, threatens national security and puts American lives at risk."
Acting United States Attorney Sandra R. Brown said the defendant's actions posed a threat to national security but in the end there was no damage to U.S. security interests.