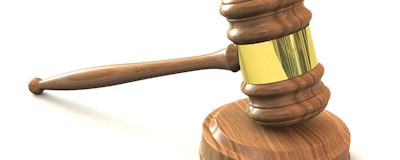 NEW YORK (AP) — A prolific foreign hacker behind sophisticated cyberattacks that netted an estimated $55 million was sentenced Friday to eight years in prison in rare win for law enforcement officials who have identified, but failed to arrest, hundreds of others like him.
Prosecutors in federal court in Brooklyn had sought up to 14 years behind bars for Ercan Findikoglu, a Russian-speaking Turkish national so skilled with computers that he tracked the sprawling international heist in real-time to make sure a small army of thieves wouldn't cheat him out of his share of the proceeds.
U.S. District Judge Kiyo Matsumoto opted for the lesser sentence after noting that Findikoglu could serve another 19 years in Turkey for an unrelated cyber theft.
"I could have used my skills for something good," Findikoglu said before hearing his sentence. "Instead, I wasted them. ... I only have myself to blame."
He also wiped away tears while describing his anguish over being separated from his Russian wife and 5-year-old in Turkey, where they've have been denied U.S visas needed to visit him.
"It is tragic that he has not and will not see his son," the judge said.
Before his capture by the U.S. Secret Service, Findikoglu had gone to great lengths to obscure his cyber fingerprints and stay out of the reach of American law, according to court papers.
It wasn't until Findikoglu made an ill-advised trip to Germany in December 2013 that he was arrested at the request of U.S. authorities. After losing a court challenge, he was eventually extradited.
Foreign hackers "know their safe havens and some are more challenging to get to," said Robert Sica, who retired last year as the special agent in charge of the Secret Service's New York field office. "Inevitably they make a mistake."
According to prosecutors, Findikoglu masterminded three complex financial crimes by hacking into different credit card processors, eliminating the limits on prepaid cards and then texting access codes to crews of so-called "cashers" who within hours withdrew thousands of dollars from ATMs.
In one December 2012 hack, they say, 5,000 cashers in 20 countries withdrew a total of $5 million — including $400,000 in 700 transactions from 140 New York ATMs — in less than three hours, according to court papers.
A percentage of the stolen cash was then kicked back to Findikoglu via wire transfers and deliveries to co-conspirators in Turkey, Romania and Ukraine, prosecutors charge.
The Secret Service investigates financial crimes committed by international hackers. The FBI goes after state-sponsored hackers in counter-intelligence cases and has faced similar difficulties putting foreigners behind bars.
In 2014, U.S. authorities indicted five members of the Chinese military on hacking charges, though experts say it's unlikely they'll ever be extradited to the U.S.
Russian hacker Evgeniy Mikhailovich Bogachev is on the FBI's most-wanted list, has a $3 million bounty on his head and is believed to be living freely in Russia.