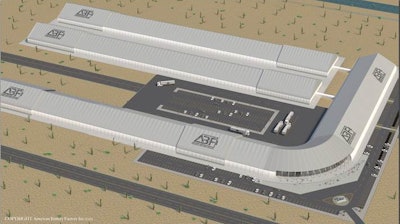 Honeywell
Honeywell announced that American Battery Factory (ABF), a Lithium Iron Phosphate (LFP) battery cell manufacturer, is fully integrating Honeywell's automation and process safety solutions in its new gigafactory located in Tucson, Arizona.
At approximately 2 million square feet, the facility is projected to be the largest gigafactory to produce LFP battery cells in the U.S. upon completion. Energy storage systems made from ABF's battery cell production will be available to households, businesses and utilities, allowing them to optimize their use of energy from the grid or from their own systems.
The Arizona gigafactory will integrate Honeywell's Manufacturing Excellence Platform, Experion Batch, and Integrated Remote operations to help ABF optimize its manufacturing process and workflow. Honeywell's innovative solutions will allow ABF to visualize and control their battery production process in real-time -- from mixing, coating and assembly to storage and distribution.
Honeywell's technologies will also streamline and improve the collection of operations data while gathering insights about upcoming tasks or potential delays for operators. The results: improved yields, reduced waste and the achievement of more energy-efficient and cost-effective battery production.
"Honeywell is playing a key role in American Battery Factory's growth with our innovative solutions," said Chad Briggs, vice president and general manager of Projects and Automation Solutions at Honeywell Process Solutions. "Our approach to automation and process controls will change how gigafactories operate in the future by helping to increase battery production and reduce energy consumption."
American Battery Factory Inc. is developing a network of safe LFP cell gigafactories in the U.S. and intends on implementing Honeywell's end-to-end solutions throughout. The company hopes to making energy independence and renewable energy a reality for the U.S. by creating a domestic battery supply chain.
Along with creating domestic manufacturing jobs, ABF will play a role in meeting federal and state government climate change initiatives and "Made-in-USA" national security requirements.