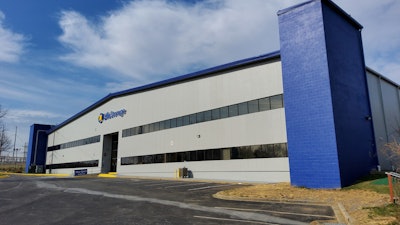 Diamond Point Development, LLC
Diamond Point Development, LLC (DPD), in partnership with The Ardent Companies recently opened the first "green" climate-controlled self-storage facility in Frederick, Maryland. Formerly the Frederick Indoor Sports Center, the conversion into a 100,000-square-foot Life Storage is now complete.
Self-storage is a low impact land use with very low generation of traffic and trash. In addition, there is little drain on city services such as water, sanitation, life services and police.
The project's developers, Jason Sommer and Aaron Sommer, Diamond Point Development, are outspoken proponents of renewable energy and always looking for ways reduce their carbon footprint.
"At most climate-controlled self-storage facilities, the greatest environmental impact is caused by the use of electricity to power the heating and air conditioning. I am proud to say that Life Storage at 1845 Brookfield Court is 100% solar powered," said Jason Sommer, Diamond Point Development Principal. "Our 1,300 solar panels generate so much clean electricity; we are able to send excess energy back to Potomac energy company."
The Fredrick Life Storage development project started as an indoor sports facility's 50,000-square-foot floorplate. They added a mezzanine to expand the building's area to 100,000 gross square feet.
This two-story self-storage facility includes 74,000 rentable square feet and 700 individual storage units. To make the storing experience more comfortable and to protect customer's belongings from the elements, every unit is temperature and humidity controlled.