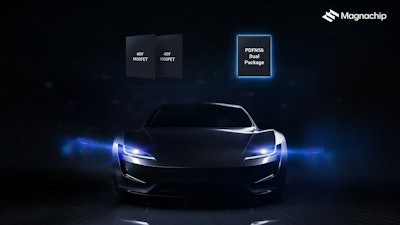 Magnachip
Magnachip Semiconductor Corporation announced today that the company began full-scale mass production of its new 40V MXT Metal-Oxide-Semiconductor Field-Effect Transistor (MOSFET) optimized for the Electric Water Pumps (EWPs) and Electric Oil Pumps (EOPs) in electric vehicles (EVs).
This 40V MXT MOSFET (AMDUA040N070RH) comes in a Power Dual Flat No-lead (PDFN) 56 dual package to reduce the printed circuit board size by 50%, as compared to using two 40V single-packaged MOSFETs. The compact size provides great flexibility in system design and, as a result, AMDUA040N070RH is well-suited to EWPs, EOPs and even the power seat modules of EVs.
The low RDS(on) enabled by the PDFN56 package reduces conduction losses, which means applications can be controlled efficiently. In addition, AMDUA040N070RH is fully AEC - Q101 qualified for its performance and stability, because of the enhanced design of its core cells and terminations for automotive applications.
Omdia, a global market research firm, estimates that the Si MOSFET market for hybrid and EVs will grow 11% annually from 2023 to 2026.
"Since 2008 we have strengthened our technological capabilities in the power solutions area," said YJ Kim, CEO of Magnachip. "As a provider of high-performance MOSFETs, Magnachip will continue to deliver innovative solutions to serve the growing demand for eco-friendly applications."