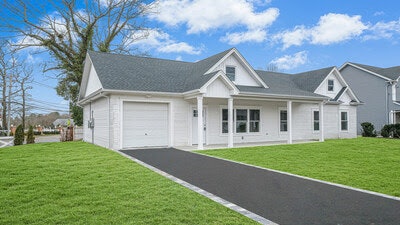 SQ4D
SQ4D, a construction technology company, has listed the largest 3D printed home in the United States for sale. The residential property was printed on site in Islandia, NY, using SQ4D's Autonomous Robotic Construction System (ARCS) and is the largest 3D printed home to ever hit the market. The home is listed as new construction for $499,999.
According to SQ4D, the 3D printed concrete home is stronger and more durable than conventional wood-frame construction. The company builds more than 40% of the structure by printing the footings, foundation walls, slab, interior and exterior walls on site. Other 3D printed home firms print about 8% to 11% of the home (mostly walls) on site.
Patchogue, NY-based SQ4D's hardware and software uses store bought concrete, while other companies use a proprietary mix.
The home is 2,000 square feet of modern living space set on approximately 1/4 acre. It has an open floor plan with four bedrooms and two full bathrooms.
SQ4D's believes its 3D printing technology can help solve the housing crisis by reducing construction cost and time as compared to traditional methods.
The developer on this project, Charles Wienraub, has built and renovated more than 400 homes in the past five years. However, due to the increasing cost of building supplies and a difficult labor market, he has completely pivoted his business to 3D printing.
SQ4D recently received approval on a 25-house subdivision in New York and has plans to work with Habitat for Humanity this summer.
3D printed housing has been slowly building in popularity in the United States. Last year, a team of architects built the first two-story 3D printed home in the U.S. More recently, a 3D-printed minimalist commune was announced in West Texas.