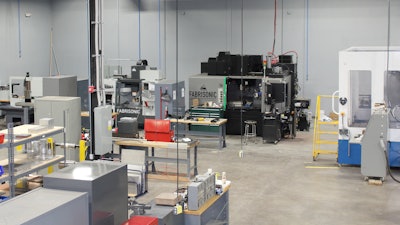 Fabrisonic
Fabrisonic, a manufacturer that specializes in 3D metal Ultrasonic Additive Manufacturing (UAM) and 3D printing applications, announced a move to a larger, state-of-the-art facility in Lewis Center, Ohio. Fabrisonic has been incubated by EWI at its facility in Columbus, on the campus of Ohio State University since 2011.
The company is growing and now requires additional space to make room for more people, machines and expanded parts production.
According to Mark Norfolk, Fabrisonic president and CEO, electrification has been a growing market for the company — UAM can bond together thin foils of aluminum, copper and nickel, which are all critical materials. Additionally, 3D printing allows for creating complex shapes for cooling as well as embedding sensors for device health monitoring.
The new 30,000-square-foot facility is located at 7719 Graphics Way, Suite A, Lewis Center, OH 43035. The company plans to add both a SonicLayer 4000 and a SonicLayer 1600, which will create more capacity for part production, customer development and new capability development. The SonicLayer machines use a patented 9kW UAM welding head to additivity manufacturer solid metal parts. The weld head is fed with 1-inch wide metal foils through an automated feed system that places foils in 3D space to create the part.
Watch: Made in America: Fabrisonic
The company will add two new positions out of the gate and is currently looking for a senior engineer and a senior technician.
"The across-town move does not adversely impact Fabrisonic employees, allowing the company to maintain access to its current talent pool and attract new employees to accommodate growth," says Norfolk. "Although it's time for us to spread our wings and move out of mom and dad's basement, we're staying close to our Buckeye engineering roots." Fabrisonic also upgraded its entire IT infrastructure to a higher security platform that meets government sensitive data requirements.
According to Norfolk, Fabrisonic has been receiving more government contracts, which has spurred the need for higher security. He says numerous government clients and Department of Defense OEM's are requesting higher security requirements.