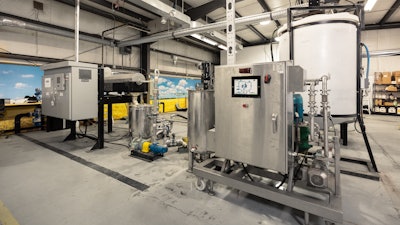 Prairie Lithium
Prairie Lithium announced the commissioning of the third iteration of its Direct Lithium Extraction (DLE) pilot plant at the Emerald Park testing facility.
The DLE pilot is designed to process deep subsurface brines sourced from Prairie Lithium's Fall 2022 drilling program when 600 m3 of lithium rich brine was reserved for ongoing DLE technology testing. The pilot plant utilizes Prairie Lithium's Ion Exchange (Plix) material designed to selectively extract lithium from the produced brine water, purposely reducing the amount of contaminants that are carried over into the production stream.
The third iteration of the pilot plant was designed based off the first two DLE pilot plants that ran in the facility over the course of 2021 and 2022. The new plant builds on the experience and knowledge gained from its predecessors, which processed ~400 m3 of lithium rich brine over the lifespans. Significant changes to the plant's design include new equipment to reduce processing time, improved configuration to enable continuous flow and increased processing capacity.
"This is really a testament to the team we have at Prairie Lithium, relentlessly improving and pushing our technology towards commercial deployment. Doing so without sacrificing quality or safety under tight timelines to keep the project on schedule," states Don Bender, Prairie Lithium's Research, Development, & Engineering Manager.
The pilot plant is expected to provide the information required to enable the design of a field demonstration plant to be deployed on a Prairie Lithium wellsite in Southeast Saskatchewan. Recently, the Company converted mineral exploration permits into 21-year mineral leases, the first ever in Saskatchewan's history for lithium brines.