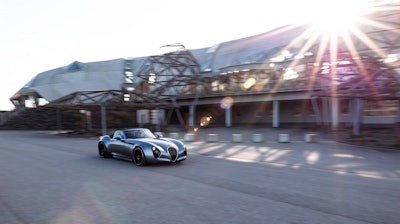 Wiesmann
Wiesmann has revealed further technical details of its all-electric vehicle codenamed Project Thunderball – which it is calling the world's first electric convertible roadster.
The two-seater, rear-wheel drive Project Thunderball sees twin electric rear-mid mounted motors delivering up to 500kW (680hp) to the rear wheels and 1100 Nm of torque, bringing straight-line performance and a targeted 0-62mph (0-100km/h) sprint acceleration time of 2.9 seconds.
Project Thunderball has been built on a bespoke chassis architecture with its powertrain components packaged to provide the lowest possible center of gravity. To keep the typical roadster proportions, the position of the driver and passenger are positioned as far backward as possible, presenting a challenge to integrate the drivetrain and large battery into the vehicle's small footprint.
Engineers located the drivetrain behind the driver's seat and battery modules in a T-shape along the center tunnel and into the front of the vehicle along with the twin Axial flux, PMSM e-motors.
The vehicle's battery pack provides a target range of 500km (310 miles). The 92kWh (83kWh available), Li-ion NMC, "module-to-pack" technology is based on series modules with integrated pouch cells, which in total weigh 500kg.
To keep the battery performing at a high level, Wiesmann engineers have developed a thermal management system for the battery module. Using a water-glycol mix, the modules are cooled via a flow-simulated and optimized cooling plate, which transfers the heat to the base of the module as quickly as possible.