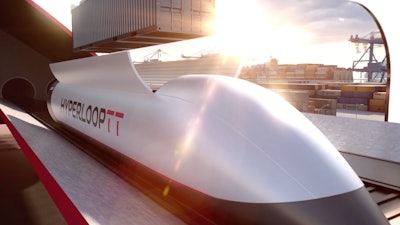 HyperloopTT
Hyperloop Transportation Technologies, a transportation and technology licensing company focused on realizing the hyperloop, and Forest Road Acquisition Corp. II, a publicly traded special purpose acquisition company, announced today that they have entered into a definitive merger agreement that is expected to result in HyperloopTT becoming a publicly listed company.
Upon the closing of the transaction, the newly combined company will be named "Hyperloop Transportation Technologies'' and will continue to be led by Chief Executive Officer Andrés de León and the HyperloopTT management team.
Led by a team of hyperloop business and technology professionals, HyperloopTT relies on a global network of technologists, scientists, engineers, and expert contributors, resulting in an asset-light technology development business model. Through this partner network, the company is driving a suite of next generation technologies to power transportation in the future.
Since its inception in 2013, HyperloopTT has made progress towards the adoption of hyperloop systems. The company developed a full scale hyperloop test track in Toulouse, France, a hyperloop insurance framework model, and model safety and certification guidelines.
With the deployment of the company's test track, HyperloopTT has built a technology portfolio relating to patents across levitation and propulsion, low pressure tube transportation, and passenger experience. These patents are the basis of a technology that combines sustainability with the ability to reach destinations faster.
Hyperloop is a vacuum tube-based system that moves people and goods in levitating capsules at airplane speeds on the ground. These speeds are achieved by using passive magnetic levitation technology and a linear electric motor in a tube with minimal pressure, reducing resistance. As a mobility solution with transformative power, hyperloop is potentially cleaner, safer, healthier, and more efficient than existing forms of transportation.
HyperloopTT is actively engaged in providing the European Commission and the U.S. Department of Transportation (USDOT) with a technical understanding of hyperloop systems. The following are project opportunities HyperloopTT is currently pursuing:
Commercial prototype in Italy: Hyper Transfer Demonstrator project. Final proposal for tender submitted in Q4 2022 as part of a Consortium. Expect tender to choose the contract winner by Q1 2023.
Multi-state commercial line project: Great Lakes Hyperloop Feasibility study complete and HyperloopTT expected to facilitate Environmental Impact Statement in 2023.
Cargo hyperloop technology: HyperPort Cargo Solution, Germany. Joint venture with Hamburger Hafen und Logistik AG (HHLA).
Testing & certification MOU with ENSCO: Federal Rail Administration's Transportation Technology Center, Colorado, United States.
Commercial prototype site exploration: 3-mile passenger system, R&D, and experience center, Canada.