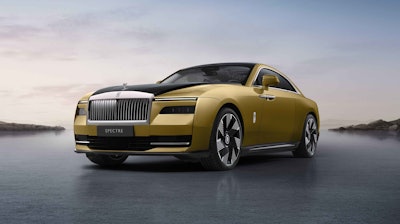 Rolls-Royce
Rolls-Royce Motor Cars today unveiled its first fully electric vehicle, Spectre.
Spectre marks the start of Rolls-Royce Motor Cars full electrification and the company has confirmed that by 2030 its entire product portfolio will be fully electric.
Spectre's size required designers to use with 23-inch wheels. Inside, Spectre is available with Starlight Doors, which incorporate 4,796 softly illuminated 'stars,' excluding Starlight Headliner.
Spectre features an all-aluminium spaceframe architecture, has been tailored for electric drive. The final power, acceleration and range figures are still being refined, as the fine tuning of Spectre enters its final phase. Preliminary data shows that Spectre will have an all-electric estimated EPA range of up to 260 miles. It is anticipated to achieve 0-60mph in 4.4 seconds (0-100km/h in 4.5 seconds).
Spectre commissions will start at an MSRP in the United States of $413,500 and Canada $487,950. Spectre is available for commission immediately, with first client deliveries commencing in Q4 2023.