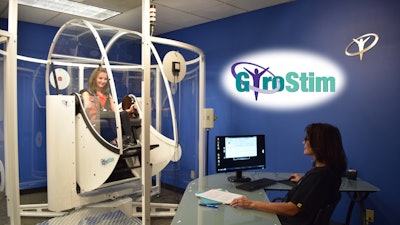 GyroStim
GyroStim, a multi-axis rotational chair, was invented by a Colorado father in his garage to aid in his daughter's daily therapy regimen.
Now it's become the first FDA-cleared device for treating balance disorders to receive FDA designation as a Breakthrough Device. This new balance treatment technology has potential to prevent falls.
The FDA grants Breakthrough Device designation only to products the agency determines can "provide more effective treatment or diagnosis of life-threatening or irreversibly debilitating human disease or conditions."
GyroStim is a computer-controlled, automated, multi-axis rotational chair. It provides therapeutic treatment for balance disorders resulting from injury, illness, and neurological or aging-related conditions. The treatment is capable of reducing or eliminating dizziness, imbalance, nausea, headache, fatigue, brain fog, memory loss, depression, anxiety, and other manifestations of balance disorders and vestibular dysfunction.
GyroStim was invented by UltraThera's CEO, Kevin Maher. The inspiration came from Maher's daughter, Mackenzie, who was born with cerebral palsy. Maher created a rotational chair in his garage made of a child's car seat, scraps of wood, and various hardware to provide her with balance therapy. Within weeks of using the rotational device, Mackenzie was making unexpected gains not only with balance but also in her overall development. Encouraged by her gains, Maher bootstrapped his way to producing the first automated GyroStim in 2007.
Dr. Jeremy Schmoe has two GyroStim systems in his Minneapolis clinic.
"The outcomes we achieve with complex vestibular disorders, post-concussion syndrome, and dysautonomia are beyond anything we have seen before," he said.
"The road to marketing clearance and breakthrough device status hasn't been easy, but we've made huge progress over the past decade collecting data, improving the technology, and gaining acceptance within the medical community. The demand is there, and now, with the marketing green light from FDA and increased manufacturing capabilities, GyroStim is poised for exponential growth," he said.