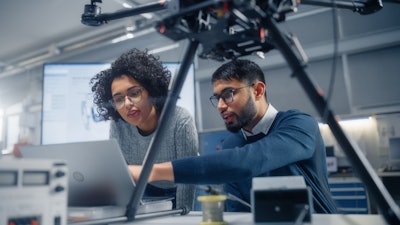 iStock
When a new chief financial officer came aboard at Dover Chemical Corporation, he directed company officials to use predictive procurement from Arkestro in its maintenance, repair and operations organization.
The Arkestro system uses data-driven insights to forecast outcomes and make procurement decisions — and it reportedly saved Dover thousands of dollars on its first RFP alone.
In this Q&A, Dover buyer Patti DeVault discusses the company's relationship with predictive procurement, while Arkestro Chief Strategy Officer Edmund Zagorin addresses the introduction of artificial intelligence and machine learning to the procurement process.
Edmund Zagorin, Chief Strategy Officer, Arkestro
What is AI and machine learning bringing to the process of procurement?
EZ: For years, we've seen AI and machine learning used to increase the efficiency of other operational disciplines, like online marketing, customer relationship management and more.
Now this same thing is happening in procurement - analyzing a wide variety of variables in order to predict, recommend and monitor spend across the supply base, increasing utilization of preferred suppliers with competitive "target" prices, and even notifying procurement to take advantage of changes in relevant markets.
Have you ever heard the term "rationalization?" CFOs have traditionally loved this term when it came to inventory, because it could help improve working capital which is the lifeblood of most manufacturing businesses. In procurement, we think about supplier rationalization (getting more spend with fewer suppliers to leverage volume-based discounts) and SKU rationalization (buying fewer types of items to get a better deal). These efforts often sound good in theory, but doing in practice – at the tactical level of everyday purchasing – can be tough. That's an area where we're seeing AI make a huge difference, by providing automated alerts and "best next step" guidance for individuals as they are making buying decisions.
What benefits can predictive procurement bring to MRO?
EZ: When it comes to procurement, maintenance, repair and operations (MRO) is often an extremely challenging category. This is because MRO typically includes an expansive network of suppliers selling everything from tools to safety equipment to cleaning supplies. There are often multiple numbers associated with the same item, and there is often incomplete or inaccurate data labeling purchasing transaction history.
Certain parts may be out, and suppliers may propose substitutes or alternates and equivalents, which adds further complexity. This is an area where predictive models and AI have made a huge impact, by overcoming some of the challenges with traditional analytics that rely on clean data and making exact matches between manufacturer numbers and supplier numbers with an Item Master, especially when the same part can come from multiple supply sources.
What advancements do you see in the next few years?
EZ: There are so many things in procurement and purchasing for manufacturing that are changing so fast. First, you are seeing a new wave of American manufacturing with semiconductors and EVs and a whole range of related industries, and that is giving businesses the opportunity to automate and re-think the physical space of the factory floor in pretty fascinating ways.
Second, the ChatGPT revolution has huge implications for purchasing agents. For example, I prompted the AI to write me an RFP for Waste Management Services and generate a list of relevant specs and the result was better than what most junior buyers would be able to produce. That's astonishing.
Procurement teams will also have to consider if they want suppliers creating proposals or commercial offers using ChatGPT, or whether it still makes sense to admin processes using a manual approval form or purchase request process when there are now so many other channels. We're still early days on all of these changes, but the impact is already being felt by manufacturing companies around the world.
Patti DeVault, Buyer, Dover Chemical
What led to Dover Chemical Corporation seeking out predictive procurement?
PD: As the head of procurement for MRO at Dover Chemical, my mission is to save Dover money by reducing spend and processing time. With a new CFO coming on board, he was aware of the value we were not capturing in our MRO organization, and wanted us to join him in listening to what a predictive procurement platform had to offer. At first, I was a negative nelly - very skeptical the system would deliver any benefit. But we saved thousands of dollars on our very first RFP using the system and I quickly became a believer, saving significant money in RFPs ever since.
How has predictive procurement impacted the company?
PD: Arkestro has streamlined the entire procurement workflow, making it easier to collaborate with suppliers. We have stronger supplier relationships, improved process and workflow efficiencies and increased cost savings. Previously, requisitioners were choosing what to buy, then calling procurement for POs. This meant Dover wasn't always paying/receiving the best pricing available from a preferred supplier.
Today, Arkestro is embedded within Dover's ERP system as part of the RFQ process. Price suggestions, baselined from previous purchases, drives savings -- 13% savings versus previous spend – combined with 50% less time spent on updating systems, driven largely by the automation of quoted pricing transferring directly to our ERP system and Arkestro's integrated supplier messaging system (no constant switching between the Arkestro platform and email).
How does the company intend to use it in the future?
PD: Currently, Dover Chemical uses Arkestro to influence 98% of their indirect spend (MRO and other supplies) at one of two locations. In the future, we plan to begin using Arkestro to influence direct spend and bring our second location online for indirect spend. We're also working to accumulate even more purchasing data in order to better serve Dover.