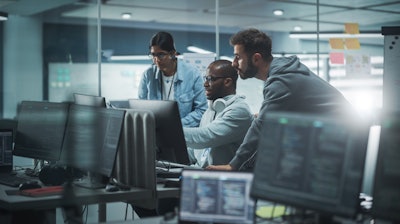 iStock
When you ask the average person to imagine the product creation process, they'll likely conjure nostalgic images of a group of individuals staying up all night drafting ideas, spending many months testing prototypes before refining and launching the perfect product. Then, starting the entire process over.
Some elements of this process are still true today. It's necessary to brainstorm new ideas and test prototypes, but many more steps are involved before a product lands in the hands of the consumer. Product development is not a linear cycle, meaning that when a purchase is made, the process does not end. Companies that want to succeed in the long run must monitor how their product performs in customers' hands to find out where they can improve things in the next model.
With the rise in adapting hardware products for software integrations, the cycle of product launches, feedback, and revisions is taken to a whole new level. In addition, planning and managing software improvements in tandem with hardware improvements means that manufacturing is getting a shake-up.
The Rise of Software Integrations in Physical Products
We may not be at the level of the Jetsons cartoon when it comes to home automation, but we are benefitting from a rise in smart appliances, gadgets, and A.I. technology in every corner of the house, from vacuum cleaners to heating systems to programmable window coverings to voice-control options for ordering groceries on-demand. It's a wonderful time to be alive.
As we learn to adapt our lives around these amazing machines, the people that design, create, and oversee their production also need to adapt to a new way of doing things. Product manufacturers must adapt not only to managing and creating products with A.I. inside them but also to using A.I. systems in their internal processes.
The Impact of A.I. on Product Management
The current learning curve most manufacturers are balancing is integrating software development teams with hardware development teams to ensure a seamless roadmap for the full product. The biggest challenges of managing products that use A.I. and other types of software are:
Coordinating timelines

Managing dependencies between components

Keeping teams informed

Accessing a single source of truth for development progress

Adjusting the roadmap for unexpected delays

Maintaining and managing the software side of the product after the launch
Unless you're in the manufacturing world, you may not give much thought to how your appliances, tools, and devices operate or are manufactured. Once the hardware portion of a product is launched, the product teams can analyze performance in each market, gather feedback from users, and revise the design or features for the next physical launch. Meanwhile, the software teams will also be gathering user data either from direct feedback or passive information collected from the software itself. When issues arise, or new ideas take form, the software team can launch their updates directly to the customer without waiting for the next physical launch.
Changes to Product Roadmapping
One portion of product management that is rapidly changing is the way product roadmaps are laid out. Companies that are already using innovative software to map out their entire product portfolios using long-term roadmaps have a competitive advantage in that they can easily outline the scope of the hardware alongside the scope of the software to ensure milestones line up. Organization and experience help to successfully manage complex products, but having the right tools and systems in place can make it a lot easier.
There are dozens of roadmapping tools for managing both products and projects. Not all of them work well with complex products that integrate software. It's important for product management teams to partner with their executives to invest in the right solutions for their company in the immediate future but also in the longer term.
Connecting Software and Hardware Management Teams
The right tools are useful, and so are the right leadership skills. Product managers oversee other managers, including the product manager for hardware. The product manager for software, engineering, and customer research (often called Product Operations Management) must have the skills to connect everyone effectively. There are several ways that product operations managers can coordinate their teams effectively, including:
Use one source of truth for product information and updates

Facilitate timely meetings either virtually or in-person

Present information in a concise, informative matter that each department understands

Maintain a high-level view over roadmaps to monitor progress and potential problems
Staying on Top of the Trends
Society's demand for new technology and A.I. integrations into everyday products, from cars to toys to household appliances, means that product managers must develop and sharpen their skills continuously. In addition, these various teams will work together on more types of products, requiring a more complex management framework that all manufacturers will eventually need to adopt. To stay competitive, manufacturers must be aware of these trends and adapt as needed to both create the products in demand and manage them effectively.
The Impact of A.I. on Internal Product Teams
While A.I. in products is influencing the world of product management, the use of A.I. for manufacturers internally also influences how the industry operates. Manufacturing organizations employ large teams, often located in several locations worldwide. As we've been discussing, keeping everyone up-to-date on information requires meticulous systems, open communication channels, and access to software where information is compiled and analyzed.
Using A.I. to Give Product Managers Back Their Time
When people have questions about the status of a product, such as when a certain milestone will be achieved, when a component will be completed, or updates on delays, they go to the product manager for answers. Product managers are overloaded with emails, chat messages, and phone calls daily regarding the products they oversee.
What if those product managers had a little help to give them back their valuable time while simultaneously providing the rest of the team with timely, accurate answers about any product in the portfolio? Advancements in A.I. are rapidly painting the picture of possibility when it comes to better, more efficient communication.
How an A.I. Chatbot Can Answer Basic Questions
One example is the recent popularity of the A.I. chatbot Chat GPT. It won't take long for a manufacturer to take this software and improve areas of their business, such as communication. Suppose a company used Chat GPT or a similar program to capture the data regarding their products, roadmap progress, and more. Instead of hassling the product managers with minor questions, team members could open the chatbot, and enter their questions regarding timelines, milestones, dependencies, and more, to get accurate answers immediately. This type of integration into the actual development process could save your team hours of time spent on back-and-forth emails, messages, and even casual meetings.
Of course, a chatbot could never replace informative product meetings. When stakeholders must be informed on delays, changes, or the progress of a product's development, a timely meeting and clear presentation are essential. For all the in-between questions and inquiries, a chatbot could fill in those gaps.
Other Ways Manufacturers Can Benefit From Using A.I. Internally
While product teams are designing, producing, and managing a whole host of products utilizing A.I. and other software technologies, there are ample ways A.I. software can make the development process more efficient.
Communication
In addition to using a chatbot to connect teams, A.I. can also improve communication by helping to write reports, draft emails, and plan out pitches on new product ideas. Not all product managers excel at writing concisely or persuasively. Continuous improvement with A.I. writing tools will mean that any product manager can write the materials they need for their job without wasting time over whether it's quality work or not.
Market Research
Storing and compiling market analytics within an A.I. system would make it possible to sift through and pull out the key takeaways to inform product decisions. Just as researchers, journalists, and data analysts will benefit from A.I. software in their professions, conducting market research to inform product direction will also be easier in product development.
Factory Floor
Artificial intelligence combined with robotics is already transforming factory floor operations. From robotics that assemble components to A.I. robots that walk factory floors to inspect machines for safety and function ability, the benefit of technology has been evident for years. Companies who invest in the I.o.T. to make products that also use the I.o.T will gain and maintain a competitive advantage over those that don't.
Marketing
A.I. can even support basic business initiatives, such as marketing. When the data about a product is uploaded to in-house software similar to Chat GPT, the marketing team can pull out written briefs to help them craft their campaigns. Getting a starting point based on clear definitions of the features and benefits of the products will save marketers hours on their campaigns.
A Better Way to Manage Modern Products
The product management world is shifting and adapting to manage the software that is integrated into the hardware product. Roadmap scopes need to change, different teams need to work together, and valuable information must be gathered, stored, and analyzed to continue making informed product decisions.
The product management role is expanding, and communication plans are becoming increasingly important. Product roadmap management software can help product managers capture long-term roadmaps, update multiple stakeholders regardless of location, and track dependencies between components across product lines are better equipped to support the growth in developing products that utilize the Internet of Things.