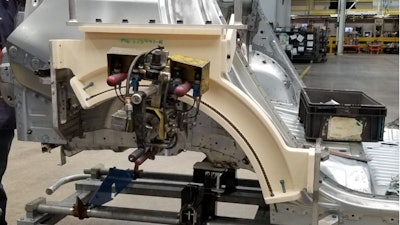 Stratasys
The automotive industry is undergoing a massive revolution in the race toward electrification. It was true before gasoline prices hit $4.00 per gallon. It's truer now.
READ MORE: When 3D Printing Will Move Past 'Pet Projects' in Auto Industry
That race presents significant opportunities to change not only how vehicles are powered but how they are designed, built, and experienced. Additive manufacturing — 3D printing on an industrial scale — is uniquely situated to fuel this transition.
Among the obvious advantages of additive manufacturing is its use for rapid prototyping both inside and outside of the vehicle. 3D printers have been fixtures in automotive design studios for decades.
But the advantages of additive manufacturing go well beyond that to the operations of the assembly line itself. Instead of locking additive equipment away in prototype labs, automakers are bringing additive manufacturing into high value, new and retrofitted plants from the earliest stages.
Where Are We Now?
There's one question that dominates discussions of 3D printing in automotive. "Why not print as much as we can?"
Is it possible? Yes. Does it make business sense? Not entirely, but some low-volume automakers are already leveraging 3D printing for most parts.
Advances in additive manufacturing are increasing throughput and lowering the costs per part. But the current state of additive manufacturing doesn't quite match the scale of manufacturing. In a significant vehicle run of 30,000 units, additive manufacturing is an excellent option to create a limited-edition version or a regional variation for specific driving conditions.
And that is incredibly important for a couple of reasons. First, consumer behavior is shifting. Buyers want newer designs and customization, especially in the burgeoning luxury segment. In the past, a car model would undergo a significant redesign every five to seven years, but the lifecycle for models is getting shorter with updates occurring every two or three years.
With electric vehicles, redesigns add complexity. Range anxiety continues to weigh heavily on the minds of EV buyers, and a minor design change may impact a vehicle's range. To compensate for these design changes, automakers may make additional changes to relatively obscure parts like wiring harnesses and HVAC.
What we can expect to see in the EV market is not only more customization but more limited-edition vehicles for regional markets.
The Expense of Retooling
Even modest changes to a vehicle design can have cascading effects on the assembly floor for automakers. Many parts, for example, require special tools to install correctly. Changing a part's dimensions, even by as little as a nanometer, may require a new tool or jig.
Traditionally, tool fabrication has a long lead time between the machinist and its use on the shop floor. It's also expensive.
With additive manufacturing, automakers can print tools for every stage of the production process, including bespoke toolings for the research and development phase, larger production runs for the assembly floor, and quality control toolings to quickly measure and evaluate parts before installation.
Tools that used to take months to design, and build are now available in hours. We've even seen additive manufacturing make robotic arm toolings lighter, resulting in accelerated production. This is the main reason major OEMs are putting industrial 3D printers into their most critical plants.
Simplified Supply Chains and Vertical Integration
The supply chains in the automotive industry are notoriously complex. From the tiniest nut and bolt to the engine block and the windshield; it is estimated that the average car contains 30,000 parts. Individual automakers have hundreds of tier-one suppliers who are dependent on suppliers of their own.
The COVID-19 pandemic disrupted these supply chains across the globe. We're beginning to see a renewed interest in vertical integration as a result. Additive manufacturing is helping to alleviate supply chain woes.
We've seen several examples. Automakers are printing small parts, like dielectric bushings, saving money and weeks of lead time in the process. But automakers are also printing contingency parts and replacement parts for conveyor belts that have been taking months to ship from other countries.
Given the combination of design and production freedom, and the need to cut lead times for parts and toolings, you can expect to see more vertical integration in the automotive sector and shorter supply chains.
Driving Innovation
Electric vehicle manufacturers aren't taking the road less traveled. They're forging new ones.
Earlier in 2022, Ford announced that it would split its operations into two distinct business units, one focused on legacy vehicles to drive profitability, and the other focused on driving innovation in the electric vehicle segment. A massive shift we see coming to the auto industry today.
3D printing and additive manufacturing are quickly shedding their reputation as the go-to solution for low volume, high-value products. Instead, it is driving innovation within OEMs and transforming how the assembly line works.
It could not come at a better time.