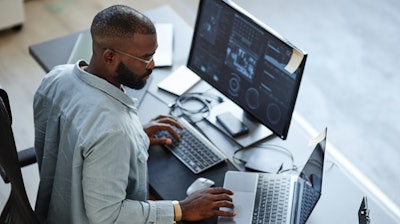 iStock
Over the past year, AI has shown up in every industry, changing traditional workflows through automation and predictive analysis. Product development is no exception.
Product managers have already found countless opportunities to apply AI technology to predict customer preferences, streamline labor-intensive tasks, and more.
By using AI, product managers can focus less on tedious and manual tasks and more on strategy, vision and team leadership. But first, it's important to learn a little more about how AI can enhance the product development process.
How Product Managers Employ AI
AI can be integrated into traditional product development, where advanced machine learning algorithms can enhance pre-existing methods and procedures.
Specifically, AI can be used by product managers who want to:
Develop trajectories for higher growth.

Increase efficiency in their production process.

Gain an edge over the competition.
To achieve these benefits, product managers must have the right skills to deploy AI as efficiently as possible, fully understanding both the capabilities and limitations of machine learning. These skills include:
Data literacy

Problem mapping

Clear communication
The latter is especially valuable for product managers who must communicate the value and purpose of AI tools to their team members, fully integrating machine learning into existing workflows.
Using AI to Enhance Product Development
There are several specific ways in which AI can help product managers do their job more effectively. Here are just a few of the most notable.
1) Data analysis and predictive modeling.
A big part of the product manager's job is sifting through internal company data to find what's usable and actionable. This can be incredibly time-consuming, but AI tools can analyze vast quantities of data in no time flat. This includes data that can be used to identify any patterns that might be illuminating to product design and engineering teams, including patterns related to consumer trends and behaviors. What's more, AI ensures that the data is relevant and accurate, preventing product managers from costly errors.
2) Writing user stories.
For effective product development, it's imperative to understand consumer needs. User personas are invaluable tools for identifying a target audience and ascertaining how audience members arrive at their purchasing decisions. In turn, this allows product development teams to prioritize the features most likely to solve users' biggest problems or to address their most significant pain points. AI tools can expedite the creative processes used to generate buyer personas, including hypothetical scenarios that can help to understand the ideal customer better.
3) Enhance productivity.
AI can be used to boost the creativity of the product development team. Specifically, AI tools can:
Facilitate brainstorming sessions among product team members.

Reduce the time required to develop documents.

Summarize those documents for clear, succinct collaboration between teams.

Plan and forecast for upcoming projects.
4) Outline features and benefits.
The generative design of AI helps developers and engineers create information that showcases specific product features or benefits to the end user. This can be an immense time-saver for engineers, who are freed to spend more time optimizing products instead of creating endless sets of documents. The AI-generated text can be shared with members of the sales and marketing teams, who can use it to better understand how to position the product for maximum success and to talk about it with potential sales leads.
5) Get answers to important questions.
While it's always good to have visualizations and roadmaps for your product development process, you don't always want to refer to the roadmap for answers to simple or time-intensive questions. AI can sometimes provide a quicker way to get your critical answers. And AI can sometimes help product managers zero in on the part of the roadmap most relevant to their current concerns. So, while AI doesn't replace product roadmap and visualization tools, it can optimize their use.
Bringing AI Into the Product Development Process
There's no doubt that AI is here to stay. The only question for product managers is: How will you implement AI and machine learning tools to optimize your processes and enhance productivity? Judicious deployment of AI technology can help any development team to work more efficiently than ever before, collaborating and creating at the highest level to ensure cutting-edge and competitive products.
Maziar Adl is a strategic leader with a record for spearheading the successful design and rollout of medium to large-scale technology roadmaps and transformation. Throughout his career, Adl has become renowned as an expert in improving organizations and teams' long-term performance strategies using better, accessible and timely information and analytics.