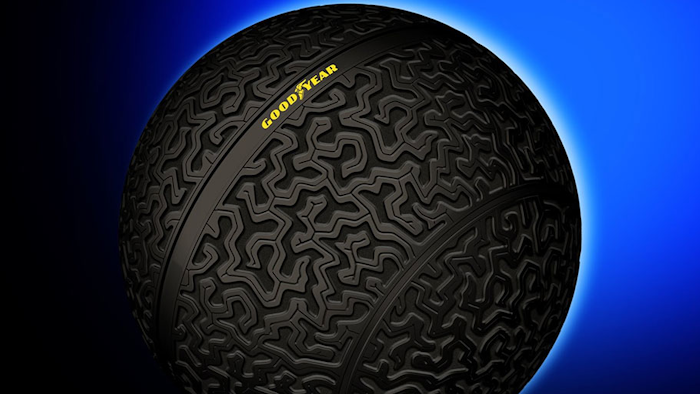 Goodyear believes that the autonomous cars of the future could drive around cities via magnetically attached spherical tires.

The Ohio tire maker introduced the Eagle-360 prototype among two concept tires unveiled this week at the Geneva International Motor Show.

The Eagle-360 resembles a large rubber ball rather than a conventional tire. It would be secured to cars using a system of magnets that would effectively levitate the vehicle over its wheels.

Goodyear officials said that the system would provide a smoother, safer ride while allowing self-driving cars to easily maneuver in any direction while operating in city streets or parking lots.

The prototype's tread, meanwhile, is designed using a 3D printer and hardens or softens under dry or wet road conditions, respectively. Tire monitoring technology also ensures that the spherical tires wear down evenly.

Sensors embedded in the tire would communicate with internal vehicle systems, as well as those in nearby cars.

Although the tire isn't anywhere close to production, Goodyear officials said that the design would help evaluate new technologies and challenge conventional transportation thinking.

"By steadily reducing the driver interaction and intervention in self-driving vehicles, tires will play an even more important role as the primary link to the road," said Joseph Zekoski, the company's chief technical officer.

The second prototype announced in Geneva — the IntelliGrip — resembles a normal vehicle tire, but it is equipped with specially designed tread and advanced sensors to identify and adjust to weather and road surface conditions.

The IntelliGrip can communicate with autonomous vehicle systems and evaluate tire and vehicle conditions. Goodyear algorithms also help account for changing tire pressure and temperatures.