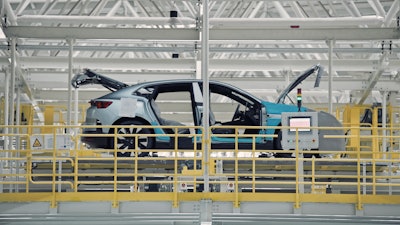 Polestar
Polestar confirms the successful start of production of Polestar 4, with first deliveries to customers in China expected before the end of 2023. Official launch in all other Polestar markets is planned for early 2024, with customer deliveries in these markets expected within the same year.
The first production car to roll off the assembly line is finished in Snow with the signature Swedish gold details of the Performance Pack. It is the first Polestar to be manufactured at the Hangzhou Bay factory operated by Geely Holding, which is powered by renewable electricity that carries the I-REC hydro power certificate, combined with photovoltaic electricity generated on the roof of the plant.
The factory's green credentials have played a significant role in reducing the environmental impact of Polestar 4, which at 19.4-21.4 tCO2e, has the lowest carbon footprint of any Polestar car at launch.
The workshop adopts several methods of reducing harmful waste, including:
Non-chrome passivator to reduce water pollution.
Water-based paint to reduce volatile organic compound emissions.
Dry paper box filtering in the paint shop to remove paint mist, achieve zero wastewater generation during the spraying process, and effectively reduce air conditioning energy consumption by 60%.
Concentrator wheel and regenerative thermal oxidiser to effectively treat exhaust gases from the factory.
Polestar 4 was first launched at the Shanghai Auto Show in April 2023. From the second half of 2025, additional manufacturing will be added in Busan, South Korea, for the local market and export to North American markets. The SUV coupé is the second SUV in the Polestar line-up and in addition to incorporating design cues first seen on Polestar's concept cars, it is also the fastest Polestar production car to date. Polestar 4 is positioned between Polestar 2 and Polestar 3 in terms of size and price.