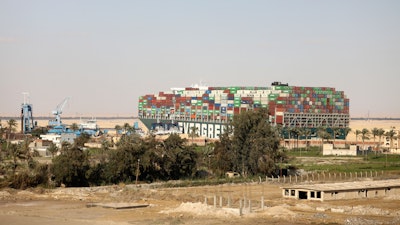 AP Photo/Mohamed Elshahed, File
CAIRO (AP) — The world's biggest shipping company said Monday it sued a rival shipping line in a Danish court, seeking compensation for ship delays that resulted from the blocking of the Suez Canal by a hulking vessel two years ago.
The Panama-flagged vessel Ever Given, operated by Evergreen Marine Corp., ran aground in March 2021, blocking the global waterway for nearly a week. The enormous vessel was released in a massive salvage operation.
In an email to The Associated Press, shipping giant A.P. Moeller-Maersk said it filed a claim against Evergreen Marine, the vessel's Japanese owner and its German technical manager, Bernhard Schulte Management, in the Danish Maritime and Commercial High Court in Copenhagen, Denmark.
The Copenhagen-based shipping company said the claim is related to losses suffered during the canal's blockage. It did not provide further details, including when it filed the claim.
The ShippingWatch, a news outlet covering maritime industry, however, reported Monday that 50 of Maersk's container ships were delayed because of the canal's blockage.
Maersk seeks millions of dollars in compensation to cover among other things costs it incurred from customers with goods being transported on the delayed ships, the report added.
Evergreen Marine and Bernhard Schulte did not immediately respond to requests for comment. The ship's Japanese owner, Shoei Kisen Kaisha Ltd., was not immediately reachable.
The Ever Given was on its way to the Dutch port of Rotterdam on March 23, 2021 when it slammed into the bank of a single-lane stretch of the canal about 6 kilometers (3.7 miles) north of the southern entrance, near the Egyptian city of Suez.
A massive salvage effort by a flotilla of tugboats helped by the tides freed the skyscraper-sized vessel six days later, ending the crisis, and allowing hundreds of waiting ships to pass through the canal.
After it was freed, the Ever Given was held for more than three months in Egypt amid a financial dispute with authorities. Its release came after its owner reached a settlement with canal authorities over compensation following weeks of negotiations and a court standoff. Officials did not reveal details on the terms of the settlement but canal authorities had sought more than $900 million in compensation.
The canal's blockage forced some ships at the time to take the lengthy alternate route around the Cape of Good Hope at Africa's southern tip, requiring additional fuel and other costs. Hundreds of other ships waited in place for the blockage to end.